ACTA MEDICA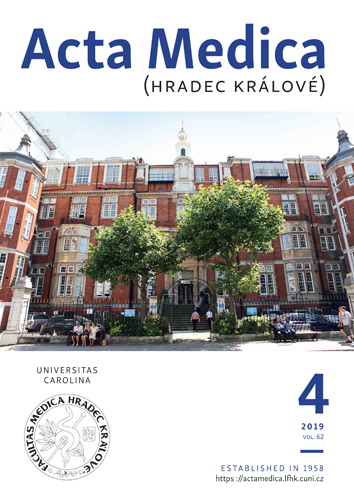 Acta Medica (Hradec Králové) je víceoborový vědecký recenzovaný časopis vycházející v angličtině. Acta Medica publikují review, původní články, stručná sdělení, případové studie a oznámení. Časopis byl založen v roce 1958 pod názvem Sborník vědeckých prací Lékařské fakulty Univerzity Karlovy v Hradci Králové. Je indexován v databázích Chemical Abstracts, CNKI, DOAJ, EBSCO, Hinari, Index Medicus, MEDLINE, Scopus a Ulrichsweb.
Pancreatic Adenocarcinoma: Epidemiology, Role of EUS in Diagnosis, Role of ERCP, Endoscopic Palliation
Sameer Zar, Darina Kohoutová, Jan Bureš
DOI: https://doi.org/10.14712/18059694.2020.1
zveřejněno: 10. 02. 2020
Abstract
Pancreatic cancer is the seventh leading cause of cancer deaths worldwide and is associated with a poor survival rate. The vast majority of pancreatic cancers are inoperable at the time of diagnosis. In the absence of metastatic disease, operability depends on the extent of local disease; in particular, the presence or absence of vascular and lymph node involvement. Adequate staging is vital in deciding an appropriate treatment plan. Cross sectional imaging including CT, MRI and PET-CT are commonly used for staging. However, EUS is a useful adjunct for accurate loco-regional staging in addition to allowing diagnostic tissue samples to be obtained. Emerging EUS-guided therapeutic techniques have opened up new horizons in the management of pancreatic malignancy. EUS guidance can be used for coeliac plexus neurolysis in patients with intractable pain and fiducial placement in directing stereotactic radiotherapy. The majority of patients with cancer of the pancreatic head present with biliary obstruction. ERCP can be used to drain the obstructed biliary system with plastic or metal stents and offers an opportunity to confirm the diagnosis by obtaining brush cytology and forceps biopsy specimens. EUS-guided choledocho-duodenostomy or hepatico-gastrostomy is increasingly being employed for draining the biliary system if ERCP is unsuccessful.
Klíčová slova: pancreatic adenocarcinoma; endoscopic ultrasound; ERCP

Pancreatic Adenocarcinoma: Epidemiology, Role of EUS in Diagnosis, Role of ERCP, Endoscopic Palliation is licensed under a Creative Commons Attribution 4.0 International License.
210 x 297 mm
vychází: 4 x ročně
cena tištěného čísla: 150 Kč
ISSN: 1211-4286
E-ISSN: 1805-9694
Ke stažení