PRÁVNĚHISTORICKÉ STUDIE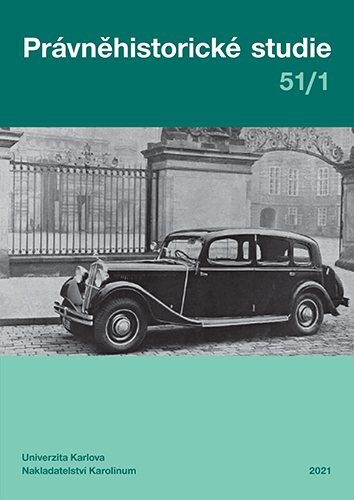 Právněhistorické studie / Legal History Studies (Charles University journal; below referred to as PHS or Journal) is a peer-reviewed Journal founded in 1990 and published by Charles University in Prague under the guarantee of the Institute of Legal History of the Faculty of Law of Charles University. It is published by the Karolinum Press. PHS is the only Czech and Slovak scholarly and scientific periodical publication in the field of History of State and Law.
Issue 1 of the Journal was published by the Czechoslovak Academy of Sciences Publishing in June 1955. The Journal was initially published by the Cabinet of Legal History of the Czechoslovak Academy of Science (CSAV), later by the Institute of State and Law (CSAV) and then by the Institute of Legal History of the Faculty of Law of Charles University.
PHS is issued three times a year in April, August, and December and it presents original scientific works/papers as well as reviews, annotations and news from the scientific field of legal history. It also introduces annotated texts of a legal history nature. PHS accepts manuscripts from domestic as well as foreign authors. Manuscripts submitted by foreign authors are published in original language, namely in English, Slovak, German, French, Italian or Polish.
PHS (ISSN 0079-4929) is registered in the Czech national ISSN centre (supervised by the State Technical Library). The Journal is registered by the Ministry of Culture of the Czech Republic according to Act No. 46/2000 Sb., on Rights and Liabilities for the Publishing of Periodicals and Change of Some Acts (Press Act), and it is allocated with registration number of periodical press MK E 18813.
PHS is an open journal and ensures open access to scientific data (Open Access). The entire content is released as open to the public on the web pages of the journal.
The journal is archived in Portico.
Vývoj přípravy řidičů v českých zemích do roku 1989
[The Development of the Driver Training in Czech lands until 1989]
Jan Štemberk
DOI: https://doi.org/10.14712/2464689X.2021.6
announced: 24. 03. 2021
abstract
The paper sums up the requirements and demands for the driver training in Czech lands from the early 20th century to 1989. This period is associated with several political changes that were reflected also in the training of drivers. In this context, the paper focuses on the driving schools and their legal status, the entitlements for obtaining a driving license and the individual groups of these driving licenses. Since the obligation to undergo a driving test before driving had been implemented (1905), the content and difficulty of the driver training as well as other requirements (such as medical or professional) had been discussed. Particular attention is paid to the transformation of involvement of the state and the role it played in the trainings. The text of the article is largely based on the analysis of various legislations. To reveal the reality of the driver training and driving schools' activities, relevant archive sources and partly contemporary literature were used.
keywords: drivers of motor vehicles; driving school; driver training; driving license
references (10)
1. DOLEŽAL, S. Dopravní výchova mládeže. Odborná výchova, 1979-1980, roč. 30, č. 2, s. 60-61.
2. HOSKOVEC, J. a kol. Výcvik řidičů a psychologie. Praha: Nakladatelství dopravy a spojů, 1972.
3. JEŘÁBEK, V. a kol. Kapesní příručka pro řidiče z povolání. Praha: Dopravní nakladatelství, 1960.
4. SVOBODA, M. K některým právním otázkám forem zvyšování odborné způsobilosti řidičů silničních motorových vozidel. Socialistická zákonnost, 1977, roč. 25, č. 6, s. 350-356.
5. ŠKOULA, J. Může býti každý dobrým řidičem automobilů? Lidové noviny, 6. 2. 1927, s. 21.
6. ŠRAML, J. E. Výcvik mladých motoristů v Německu. BSČM, 1939, roč. 2, č. 4, s. 2.
7. ŠTEMBERK, J. Právní regulace automobilismu v českých zemích do roku 1938. Právněhistorické studie, 2007, č. 38.
8. ŠTEMBERK, J. Automobilista v zajetí reality. Vývoj pravidel silničního provozu v českých zemích v první polovině 20. století. Praha: Karolinum 2008.
9. ŠTEMBERK, J. Branný sbor československých motoristů. Moderní dějiny, 2020, roč. 28, č. 1.
10. TICHÝ, F. Hygiena automobilisty. Řidič automobilu, 1920, roč. 2, č. 22, s. 4-6.

Vývoj přípravy řidičů v českých zemích do roku 1989 is licensed under a Creative Commons Attribution 4.0 International License.
240 x 170 mm
published: 3 x per year
print price: 250 czk
ISSN: 0079-4929
E-ISSN: 2464-689X
Download