AUC THEOLOGICA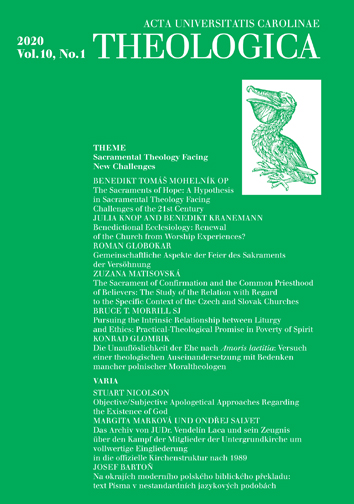 AUC Theologica is a peer-reviewed journal for theology published twice a year. As we publish original papers in English, German, French, and Italian, our mission is to serve as a platform both for Czech researchers, who can present their research results in these languages, and for international contributors, who are invited to enter the academic theological discussion in the heart of Europe.
The journal focuses on a wide range of theological disciplines, such as systematic theology, biblical studies, patristic studies, pastoral and spiritual theology, religious education, church history, etc. Within these fields, the journal seeks to reflect the current theological questions and problems, which often requires interdisciplinary approaches. Supporting the intersection of various theological disciplines, we thus also welcome theological papers touching other academic fields including philosophy, sociology, literary studies, and science.
Each issue consists of two sections. The thematic section presents papers of the same focus. The section called 'Varia' invites papers dealing with various theological themes from the perspective of all Christian traditions. Our current and past issues are approachable for free on this website in the form of Open Access.
Das Archiv von JUDr. Vendelín Laca und sein Zeugnis über den Kampf der Mitglieder der Untergrundkirche um vollwertige Eingliederung in die offizielle Kirchenstruktur nach 1989
[The archive of JUDr. Vendelín Laca and its Coverage of the Struggle of the Members of the Underground Church for an adequate integration into the official church structure after 1989]
Margita Marková, Ondřej Salvet
DOI: https://doi.org/10.14712/23363398.2020.48
announced: 15. 09. 2020
abstract
The present article provides a detailed description of the personal archive of one of the secretly ordained priests of the Underground Church (or Clandestine Church as they prefer to say), namely Vendelín Laca (1932–2015) from the Slovak town of Šurany (close to Nitra). The complex issue of how the secret priests were integrated into the official structures after the fall of the Communist regime is tackled here from a special point of view: the focus is on one concrete group of married priests whose letters, articles, and memories are stored in the archive. In the first and second sections, the paper reports growing difficulties which arose as the official bishops in Slovakia refused to recognize the priestly status of those individuals, whose ordination originated from Bishop Felix Davídek. The church authorities forced these priests to undergo an ordination 'sub conditione', but nobody was able to bring up any evidence as to why Davídek's ordinations should be questioned. Moreover, this option was only open to celibate men. The third and fourth sections describe the protracted conflict which led to the disenchantment and frustration of those married priests who were only admitted to a limited form of service in the Greek-catholic Exarchate (in Czechia) or, worse, completely excluded and charged of schism in Slovakia. The sixth and last section as a moving coda tells of the well-meant efforts of four outstanding priests who tried to engage in pastoral activities on their own. Before that, the fifth section brings witness to mutual misunderstandings and animosities within the Underground Church itself. Thus, the quotations and paraphrases of archival texts through their telling of personal stories shed light on the history of the remarkable phenomenon of the Underground Church with its glory and martyrdom without denying its shades.
keywords: Underground Church; Vendelín Laca; Married priests; ordination 'sub conditione'

Das Archiv von JUDr. Vendelín Laca und sein Zeugnis über den Kampf der Mitglieder der Untergrundkirche um vollwertige Eingliederung in die offizielle Kirchenstruktur nach 1989 is licensed under a Creative Commons Attribution 4.0 International License.
148 x 210 mm
published: 2 x per year
print price: 100 czk
ISSN: 1804-5588
E-ISSN: 2336-3398
Download