AUC THEOLOGICA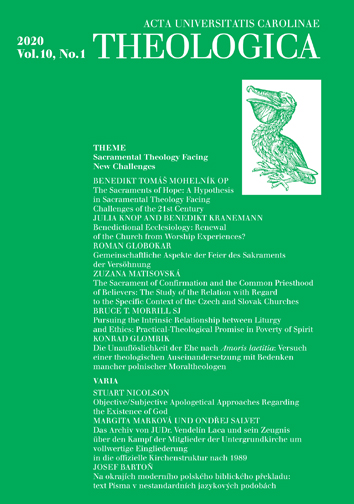 AUC Theologica is a peer-reviewed journal for theology published twice a year. As we publish original papers in English, German, French, and Italian, our mission is to serve as a platform both for Czech researchers, who can present their research results in these languages, and for international contributors, who are invited to enter the academic theological discussion in the heart of Europe.
The journal focuses on a wide range of theological disciplines, such as systematic theology, biblical studies, patristic studies, pastoral and spiritual theology, religious education, church history, etc. Within these fields, the journal seeks to reflect the current theological questions and problems, which often requires interdisciplinary approaches. Supporting the intersection of various theological disciplines, we thus also welcome theological papers touching other academic fields including philosophy, sociology, literary studies, and science.
Each issue consists of two sections. The thematic section presents papers of the same focus. The section called 'Varia' invites papers dealing with various theological themes from the perspective of all Christian traditions. Our current and past issues are approachable for free on this website in the form of Open Access.
Objective/Subjective Apologetical Approaches Regarding the Existence of God
[Objective/Subjective Apologetical Approaches Regarding the Existence of God]
Stuart Nicolson
DOI: https://doi.org/10.14712/23363398.2020.47
announced: 15. 09. 2020
abstract
Apologetics since the Second Vatican Council has somewhat changed to deal more with reaching the person and sowing seeds rather than winning the argument. The traditional objective arguments for the existence of God are today less effective, especially when approaching postmodern non-believers. Subjective approaches are far more effective, dealing with personal experience. Covering a wide range, Peter Kreeft offers twenty arguments for the existence of God, which can be grouped according to objective, subjective, and a transition group between these. By using different approaches and combinations of these, a consistent 'wall' of reasons for believing in God's existence can be created by combining these arguments like building blocks. This paper considers the range of arguments, giving summaries of the (semi-) subjective ones and commenting upon them with regards to their use, strengths, and weaknesses. It finds that as one purpose of apologetics is to assist the unbeliever in coming to know God, ways of helping bring the subjective thinker to belief in God should be developed further, and Kreeft's offering is a very useful resource for the Christian in explaining why it is reasonable to believe in God.
keywords: Belief in God; Apologetics; Peter Kreeft; Objectivity; Subjectivity; Approaches; Arguments

Objective/Subjective Apologetical Approaches Regarding the Existence of God is licensed under a Creative Commons Attribution 4.0 International License.
148 x 210 mm
published: 2 x per year
print price: 100 czk
ISSN: 1804-5588
E-ISSN: 2336-3398
Download