AUC PHILOLOGICA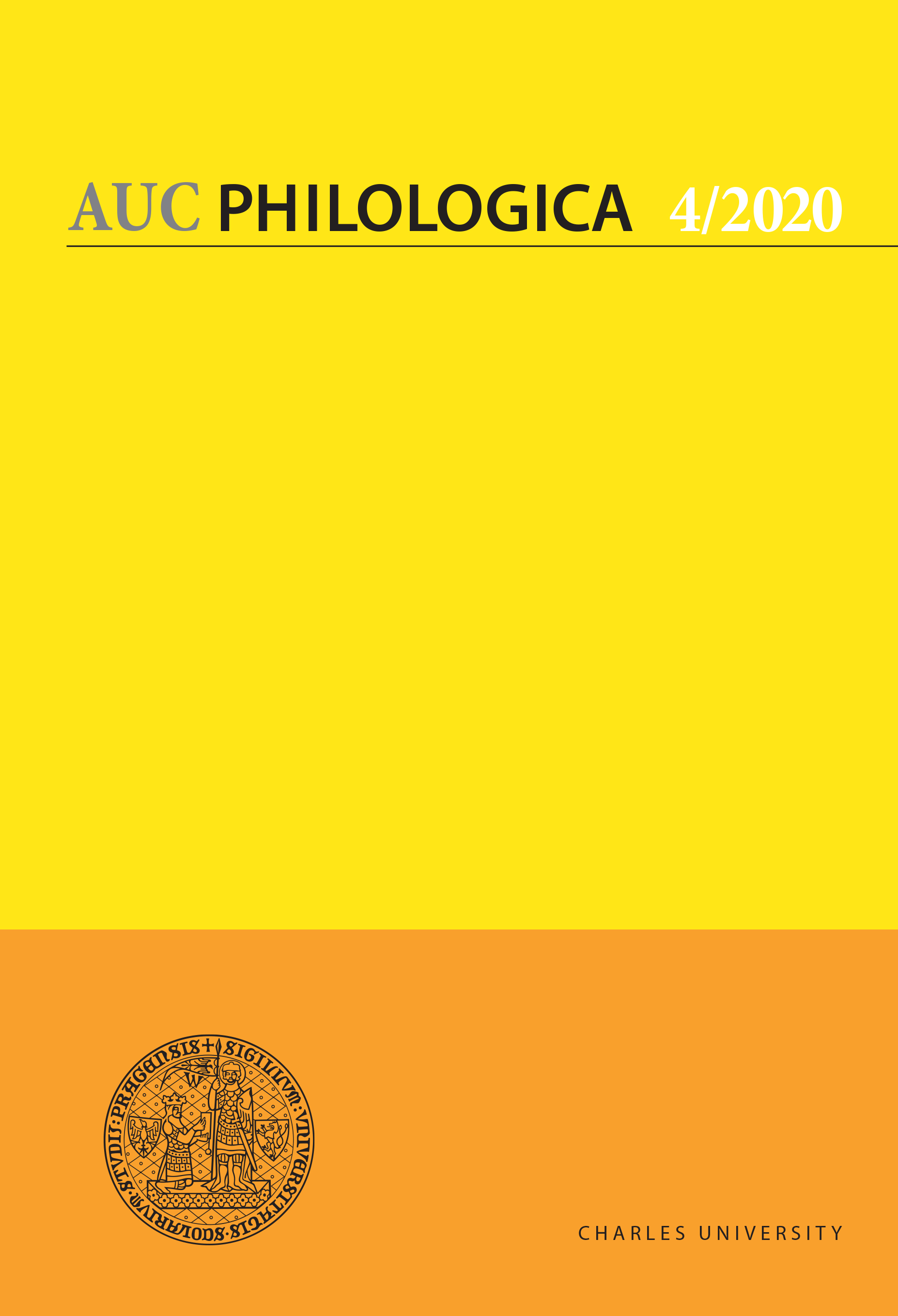 AUC Philologica (Acta Universitatis Carolinae Philologica) is an academic journal published by Charles University. It publishes scholarly articles in a large number of disciplines (English, German, Greek and Latin, Oriental, Romance and Slavonic studies, as well as in phonetics and translation studies), both on linguistic and on literary and cultural topics. Apart from articles it publishes reviews of new academic books or special issues of academic journals.
The journal is indexed in CEEOL, DOAJ, EBSCO, and ERIH PLUS.
Diversité des composés en couch, de leurs équivalents et de leurs commentaires
[Diversity of Compounds Including Couch, Their Equivalents and Comments]
Jean-François Sablayrolles, Anna Bobińska, John Humbley
DOI: https://doi.org/10.14712/24646830.2021.5
published online: 11. 08. 2021
abstract
The aim of this article is to study the diversity of the forms taken by compounds in which the loan couch appears in French and Polish, taking into account the diversity of their equivalents and the comments made about them. Two loans are particularly well represented: couch surfing and couch potato and two others, couch gag and couch promotion, both less frequent and less widespread. A large number of other cases are found in the corpus which also include couch, many of which are hapaxes. Analysis of the results in both languages but more particularly in French reveals that the more frequent the loanword is, the greater the variety of both native equivalents proposed and comments on both the loan and the appropriate translation.
keywords: loanword; equivalent; explanation; typology
references (34)
1. Buchi, É. (1993) : « Le traitement des déonomastiques dans le FEW ». In : Hilty, Gerold (éds), Actes du XXe Congrès international de linguistique et de philologie romanes. (Zürich, 1982), Tübingen / Basel : Francke Verl., tome IV, pp. 69-78.
2. Bušta, J., Herman, O., Jakubíček, M., Krek, S. et Novak, B. (2017) : JSI Newsfeed Corpus. In The 9th International Corpus Linguistics Conference. Corpus Linguistics 2017 Conference, University of Birmingham,
3. https://www.birmingham.ac.uk/Documents/college-artslaw/corpus/conference-archives/2017/general/paper382.pdf, consulté le 26.03.2021.
4. Jacquet-Pfau, C. (2018) : « Des emprunts néologiques pour exprimer le partage », dans Jacquet-Pfau, C, Napieralski, A. et Sablayrolles, J.-F. (éds), Emprunts néologiques et équivalents autochtones : étude interlangues. Université de Lodz, pp. 177-200. https://wydawnictwo.uni.lodz.pl/produkt/emprunts-neologiques-et-equivalents-autochtones-etudes-interlangues/, consulté le 23.03.2021.
5. Steuckardt, A. et Niklas-Saliminen, A. (éds) (2005) : Les marqueurs de glose. Aix-en-Provence : Publications de l'Université de Provence.
6. Tonti, M. (2020) : Le nom de marque dans le discours au quotidien. Prisme lexiculturel et linguistique. Collection : laboratorio@francesisti.it, Paris : L'Harmattan.
7. http://www.europresse.com/
8. https://www.sketchengine.eu/
9. http://frazeo.pl/
10. https://fr.wiktionary.org
11. https://en.wiktionary.org
12. https://fr.wikipedia.org
13. http://dziennikturystyczny.pl
14. http://www.kasiavictor.com/pl
15. https://www.ouest-france.fr/
16. http://www.podroze.kamgora.pl
17. https://encyklopedia.pwn.pl
18. https://www.campaignlive.co.uk
19. https://musebycl.io
20. https://kamilalila.wordpress.com
21. https://www.wirtualnemedia.pl
22. http://rockyrama.com
23. https://www.spidersweb.pl
24. https://www.telerama.fr
25. https://www.charentelibre.fr/
26. https://www.laliberte.ch/
27. https://www.strategies.fr/
28. https://www.lemonde.fr
29. https://tvmag.lefigaro.fr
30. https://www.sudouest.fr/
31. https://www.europe1.fr
32. https://www.lesoleil.com
33. https://www.tabletowo.pl
34. https://www.ethnopassion.pl

Diversité des composés en couch, de leurs équivalents et de leurs commentaires is licensed under a Creative Commons Attribution 4.0 International License.
230 x 157 mm
periodicity: 3 x per year
print price: 150 czk
ISSN: 0567-8269
E-ISSN: 2464-6830
Download