AUC PHILOLOGICA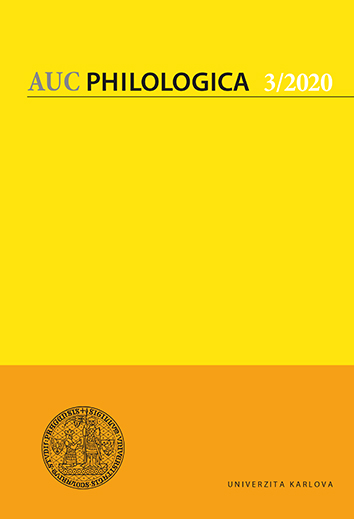 AUC Philologica (Acta Universitatis Carolinae Philologica) is an academic journal published by Charles University. It publishes scholarly articles in a large number of disciplines (English, German, Greek and Latin, Oriental, Romance and Slavonic studies, as well as in phonetics and translation studies), both on linguistic and on literary and cultural topics. Apart from articles it publishes reviews of new academic books or special issues of academic journals.
The journal is indexed in CEEOL, DOAJ, EBSCO, and ERIH PLUS.
Im Himmel donnern helfen. Stationen einer Wanderanekdote bei Pfeffel, Büchner und anderen
[Helping to Thunder in Heaven. Stages of a "Wanderanekdote" in Pfeffel, Büchner, and others]
Heinz Härtl
DOI: https://doi.org/10.14712/24646830.2020.42
announced: 05. 02. 2021
abstract
Following renowned literary critic Kurt Krolop's two publications in 1960 and 1963, this analysis investigates the dissemination and variations of the topos "Helping Thundering in Heaven". Concurrently, attention is given to the "Wanderanekdote," that publicized the topos throughout German literary as well as cultural history from the 18th century to the present. A common element in most of them – and that is true for a prominent number of variations researched for the first time – is the change of a perspective of hope for a better beyond from "below" by disillusionment and the attention on the misery of our everyday life. The historicizing and systematizing investigation reconstructs the environment, in which highlights of representations of the topos emerge, such as Konrad Pfeffel's poem "Jost" (1789) and Georg Büchner's "Woyzeck"-fragments (1836).
keywords: German; Literary History; Cultural History; topos; anecdote; Pfeffel; Jost; Büchner; Woyzeck

Im Himmel donnern helfen. Stationen einer Wanderanekdote bei Pfeffel, Büchner und anderen is licensed under a Creative Commons Attribution 4.0 International License.

published: 4 x per year
print price: 150 czk
ISSN: 0567-8269
E-ISSN: 2464-6830
Download