AUC PHILOLOGICA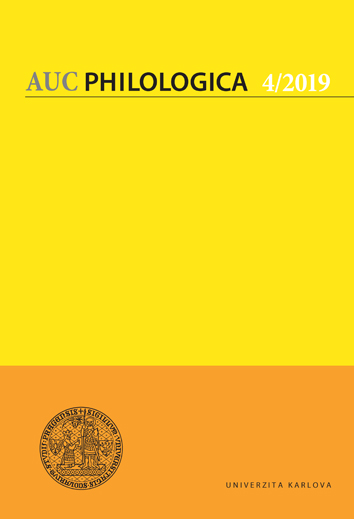 AUC Philologica (Acta Universitatis Carolinae Philologica) is an academic journal published by Charles University. It publishes scholarly articles in a large number of disciplines (English, German, Greek and Latin, Oriental, Romance and Slavonic studies, as well as in phonetics and translation studies), both on linguistic and on literary and cultural topics. Apart from articles it publishes reviews of new academic books or special issues of academic journals.
The journal is indexed in CEEOL, DOAJ, EBSCO, and ERIH PLUS.
Language of relief: medical interpreting within the scope of the refugee crisis response
Vedrana Čemerin, Marina Črnko
DOI: https://doi.org/10.14712/24646830.2020.9
announced: 26. 05. 2020
abstract
One of the main challenges facing local authorities in the regions affected by the current refugee and migrant crisis is to properly deal with the healthcare dimension, both in terms of providing adequate healthcare to migrants and regarding public healthcare of the host country. Because the crisis involves contact between people from distant regions, speaking a wide number of different languages that may be considered rare or emerging languages in the Balkans (such as Farsi and Dari or individual dialects of Arabic and Kurdish), the role of medical interpreters is often filled by ad-hoc interpreters who are native speakers of those languages, rather than trained medical interpreters. The aim of this paper is to examine the way medical interpreting services have been provided to refugees and asylum seekers in the Republic of Croatia between the peak period of the crisis in 2015 and 2019, paying special attention to the implications of this issue for the wider public healthcare concerns. The methodology used comprises an ethnographic case study supported by the qualitative analysis of interviews with the mediators involved in medical relief efforts.
keywords: crisis translation; medical interpreting; public healthcare; refugee healthcare; volunteer interpreting
references (36)
1. Albl Mikasa, Michaela - Hohenstein, Christiane (2017) 'Cognition in community interpreting: the influence of interpreter's knowledge of doctor-patient interaction', in Daniel Perrin - Ulla Kleinberger (eds.) Doing Applied Linguistics: Enabling Transdisciplinary Communication, Berlin: de Gruyter, 130-138. CrossRef
2. Angelelli, Claudia V. (2004) Medical interpreting and cross-cultural communication, Cambridge: Cambridge University Press. CrossRef
3. Botkin, Katie (August/September 2018) 'The linguistics of refugee response', Multilingual: https://magazine.multilingual.com/previewissue/aug-sep-2018/the-linguistics-of-refugee-response (access: 10. 1. 2019).
4. Brisset, Camille - Leanza, Yvan - Laforest, Karine (2013) 'Working with interpreters in health care. A systematic review and a meta-ethnography of qualitative studies', Patient Education and Counseling 91(2): 131-140. CrossRef
5. Čemerin, Vedrana (2019) 'Language Mediation in Emergency Migration Contexts: a Case Study of the Migrant Crisis 2015 in Croatia', in Christophe Declercq - Federico M. Federici (eds.) Intercultural Crisis Communication: Translation, Interpreting and Languages in Local Crises, London: Bloomsbury Academic, 39-62. CrossRef
6. Davidson, Brad (2001) 'Questions in cross-linguistic medical encounters: The role of the hospital interpreter', Anthropological Quarterly 74(4): 170-178. CrossRef
7. Dragović, Filip - Jure Tadić (2016) 'Migracijska i izbjeglička kriza, sigurnosni rizici za EU (Migrant and Refugee Crisis - Security risks for EU)', Policija i sigurnost 1(16): 14-41.
8. Dysart-Gale, Deborah (2005) 'Communication models, professionalization, and the work of medical interpreters', Health Communication 17(1): 91-103. CrossRef
9. Escobio, Favila - Echevarria, Jota - Rubaki, Silvia - Viniczai, Virag (2015) 'Health assistance of displaced people along the Balkan route', The Lancet (386): 2475. CrossRef
10. Escobio, Favila - Etiennoul, Maryse - Spindola, Stephany (2017) 'Rescue medical activities in the Mediterranean migrant crisis', Conflict and Health 11(3). CrossRef
11. European Commission (2017) EU-Turkey Statement, one year on, Bruxelles: European Commission.
12. Federici, Federico M. (ed.) (2016) Mediating Emergencies and Conflicts - Frontline Translating and Interpreting, Basingstoke: Palgrave Macmillan.
13. Flores, Glenn - Laws, Michael Barton - Mayo, Sandra J. - Zuckerman, Barry - Mesa Abreu - Milagros, Medina Leonardo - Hardt, Eric J. (2003) 'Errors in medical interpretation and their potential clinical consequences in paediatric encounter', Paediatrics 111(1): 6-14. CrossRef
14. Translators Without Borders (2017) Field guide to humanitarian interpreting and cultural mediation, Danbury: Translators Without Borders.
15. Grba-Bujević, Maja - Dragosavac Maja - Janev-Holcer, Nataša - Važanić, Damir (2016) 'Response of Croatian healthcare system to migrant crisis in the period from September 16 to December 31, 2015', Liječnički Vjesnik 138(3-4): 99-103.
16. Hsieh, Elaine (2007) 'Interpreters as co-diagnosticians: Overlapping roles and services between providers and interpreters', Soc Sci Med. 64(4): 924-937. CrossRef
17. Hsieh, Elaine - Kramer, Eric M. (2012) 'Medical Interpreters as Tools: Dangers and Challenges in the Utilitarian Approach to Interpreters' Roles and Functions', Patient Educ Couns 89(1): 158-162. CrossRef
18. Hunter, Philip (2016) 'The refugee crisis challenges national health care systems: Countries accepting large numbers of refugees are struggling to meet their health care needs, which range from infectious to chronic diseases to mental illnesses', EMBO Reports 17(4): 492-495. CrossRef
19. Inghilleri, Moira (2005) 'Mediating zones of uncertainty. Interpreter agency, the interpreting habitus and political asylum adjudication', The Translator 11(1): 69-85. CrossRef
20. Ioannidis, Anastasios - Resta, Zoi (2016) 'Professionalization opportunities for community interpreting in Greece: a sociological approach', in 8th EST Congress 2016 Book of Abstracts, Aarhus, 215.
21. Lionis, Christos et al. (2018) 'Assessing refugee healthcare needs in Europe and implementing educational interventions in primary care: a focus on methods', BMC International Health and Human Rights 18(1). CrossRef
22. Merlini, Raffaella (2015) 'Empathy: A zone of "uncertainty" in mediated healthcare practice', Cultus 8: 27-49.
23. Munday, Jeremy (2009) The Routledge Companion to Translation Studies, London; New York: Routledge.
24. O'Brien, Sharon - Cadwell, Patrick (2017) 'Translation Facilitates Comprehension of Health-Related Crisis Information: Kenya as an Example', Journal of Specialised Translation (28): 23-51.
25. Parliament of the Republic of Croatia. ACT ON INTERNATIONAL AND TEMPORARY PROTECTION, clean version, Official Gazette NN 70/15, 127/17.
26. Resta, Zoi (2017) Non-Professional Interpreting: the Greek Case: http://blog.peempip.gr/non-professional-interpreting-greek (access: 4. 6. 2018).
27. Scholz, Nicole (2016) The public health dimension of the European migrant crisis. European Parliament Briefing, Luxembourg: European Parliament.
28. Semenza, Jan C. et al (2016) 'Public health needs of migrants, refugees and asylum seekers in Europe, 2015: Infectious disease aspects', European Journal of Public Health 26(3): 372-373. CrossRef
29. Siegel, Frederic R. (2016) Mitigation of Dangers from Natural and Anthropogenic Hazards. Prediction, Prevention and Preparedness, Basel: Springer International Publishing. CrossRef
30. Stanković, Nikolina (2017) Sada je zapravo sve dobro ili ipak ne? Ispitivanje mentalnog zdravlja izbjeglica i migranata, Zagreb University Faculty of Humanities and Social Sciences: Department of Psychology.
31. Unpublished Master's thesis: http://darhiv.ffzg.unizg.hr/id/eprint/8468/1/nstankovic2017.pdf (access: 25. 9. 2019).
32. Tesseur, Wine (2017) 'Incorporating translation into sociolinguistic research: Translation policy in an international non‐governmental organisation', Journal of Sociolinguistics 21(5): 629-649. CrossRef
33. Townsend, Riley M. (2015) The European Migrant Crisis, Morrisville: Lulu Press, Inc.
34. UN High Commissioner for Refugees (UNHCR) (2017) Handbook for Interpreters in Asylum Procedures.
35. Wadensjö, Cecilia O. (1998) Interpreting as interaction, London: Longman.
36. Zrinjski, Ivan (2016) 'Kako se odvijala migrantska kriza', Jutarnji list, 9. 3. 2016, https://www.jutarnji.hr.

Language of relief: medical interpreting within the scope of the refugee crisis response is licensed under a Creative Commons Attribution 4.0 International License.

published: 4 x per year
print price: 150 czk
ISSN: 0567-8269
E-ISSN: 2464-6830
Download