AUC PHILOLOGICA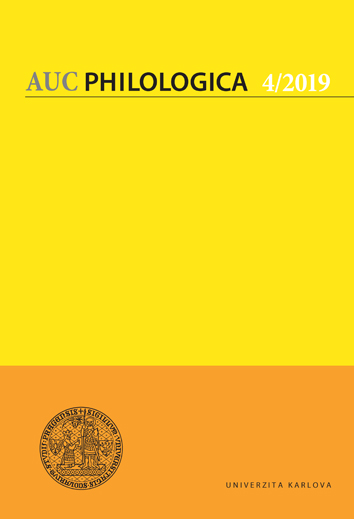 AUC Philologica (Acta Universitatis Carolinae Philologica) is an academic journal published by Charles University. It publishes scholarly articles in a large number of disciplines (English, German, Greek and Latin, Oriental, Romance and Slavonic studies, as well as in phonetics and translation studies), both on linguistic and on literary and cultural topics. Apart from articles it publishes reviews of new academic books or special issues of academic journals.
The journal is indexed in CEEOL, DOAJ, EBSCO, and ERIH PLUS.
Tlumočení z českého znakového jazyka do mluvené angličtiny s češtinou jako pilotním jazykem
[Relay interpreting between Czech sign language and spoken English]
Marie Přibylová
DOI: https://doi.org/10.14712/24646830.2020.7
announced: 26. 05. 2020
abstract
With growing emancipation of the Deaf, sign language has been making its way into conference rooms, entering in contact not only with foreign sign languages, but also with spoken ones. Logically, this entails the need for interpreting, and as the number of interpreters working directly between the national sign language and a foreign spoken language is – at least in the Czech Republic – very low, relay interpreting comes into play. Our research focuses on the quality of relay interpreting, the main criterion being content fidelity. Despite the fact that research on relay has not shown any significant deterioration in quality, we believe meaning shifts still occur, and that they will differ in languages with different modalities (visual/spatial vs. aural/oral); in the sign-to-speech combination, the primary factors are considered to be the simultaneity of expression and the necessity of processing visual input. An experiment will be conducted to test the hypothesis that if meaning shifts and information loss occur in relay interpreting, their nature will differ depending on the language combination (sign-to-speech X speech-to-speech), due in particular to the different modalities of the languages involved. The following research questions will be asked: Do meaning shifts and information loss occur during relay interpreting between languages of different modalities? If so, is relay interpreting itself a factor? If so, do meaning shifts and information loss occur in the first or second interpreting stage? Due to which factors? Is working into one's B-language a factor? Is the interpreter's experience level a factor? The experiment will be conducted in laboratory settings, with four pairs of interpreters with various levels of experience relaying between Czech sign language and spoken English via spoken Czech. As a control, the same pattern will be used in interpreting a speech from spoken French to spoken English via spoken Czech.
keywords: Czech sign language; relay interpreting; meaning shifts; modality; directionality in interpreting
references (17)
1. Bartolomiejczyk, Magdalena (2004) 'Simultaneous Interpreting A-B vs. B-A from the interpreters' standpoint', in Gyde Hansen - Kirsten Malmkjær - Daniel Gile, Claims, changes, and challenges in translation studies: selected contributions from the EST Congress, Copenhagen 2001, Philadelphia: J. Benjamins Pub., 239-249. CrossRef
2. Čeňková, Ivana (2007) 'Retour a pilotáž: každodenní realita pro tlumočníky v Evropských institucích', in
3. Juraj Dolník - Zuzana Bohušová - Anita Huťková, Translatológia a jej súvislosti. 2, Banská Bystrica: Univerzita Mateja Bela, 97-112.
4. Danišková, Miroslava (2019) Retour a pilotáž v rámci procesu výučby tlmočenia na Slovensku, Bratislava: Univerzita Komenského v Bratislave, vedoucí práce prof. PhDr. Mária Kusá, CSc.
5. Ďoubalová, Jana (2019) Kvalita z hlediska tlumočení jako strategického rozhodovacího procesu - direkcionalita a strategie při tlumočení právních textů, Praha: Univerzita Karlova, vedoucí práce prof. PhDr. Ivana Čeňková, CSc.
6. Hynková Dingová, Naďa (2017) Typologie chyb v tlumočení z češtiny do českého znakového jazyka. Praha: Univerzita Karlova, vedoucí práce prof. PhDr. Alena Macurová, CSc.
7. Gile, Daniel (2005) 'Directionality in conference interpreting: a cognitive view. Université Lumière Lyon 2', in Rita Godijns - Michaël Hindedael (eds.) Directionality in interpreting. The 'Retour' or the Native?, Ghent: Communication and Cognition, 9-26.
8. Jarolím, Viktor (1999) Tlumočení s pilotáží, Praha: Univerzita Karlova, vedoucí práce PhDr. Jana Rejšková.
9. Kumstátová, Věra (2000) Tlumočení s pilotáží, Praha: Univerzita Karlova, vedoucí práce prof. PhDr. Ivana Čeňková, CSc.
10. Llewellyn-Jones, Peter (2015) 'Target language styles and source language processing in conference sign language interpreting', in The Sign Language Interpreting Studies Reader, Amsterdam: John Benjamins, 128-144.
11. Mikkelson, Holly (1999) 'Relay Interpreting: A Solution for Languages of Limited Diffusion?', The Translator 5(2): 361-380. CrossRef
12. Napier, Jemina (2002) Sign language interpreting. Linguistic coping strategies. Coleford: Douglas McLean Publisher.
13. Pfau, Roland - Schermer, Trude (2016) 'Psycholinguistics', in Anne Baker The Linguistics of Sign Languages, Amsterdam/Philadelphia: John Benjamins Publishing Company, 25-50. CrossRef
14. Pöchhacker, Franz (2004) Introducing Interpreting Studies. London/New York: Routledge. CrossRef
15. Seleskovitch, Danica - Lederer, Marianne (1995) A systematic approach to teaching interpretation, The Registry of Interpreters for the Deaf.
16. Shlesinger, Miriam (1997) 'Conference Interpreting: Current trends in research', in Proceedings of the International Conference on Interpreting: What do we know and how?, Amsterdam/Philadelphia: Benjamins Translation Library, 123-131. CrossRef
17. Slánská Bímová, Petra - Okrouhlíková, Lenka (2008) Rysy přirozených jazyků. Znakový jazyk jako přirozený jazyk. Lexikografie. Slovníky českého znakového jazyka, Praha: Česká komora tlumočníků znakového jazyka.

Tlumočení z českého znakového jazyka do mluvené angličtiny s češtinou jako pilotním jazykem is licensed under a Creative Commons Attribution 4.0 International License.

published: 4 x per year
print price: 150 czk
ISSN: 0567-8269
E-ISSN: 2464-6830
Download