AUC IURIDICA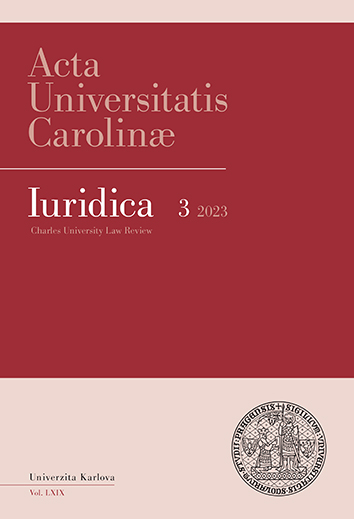 Acta Universitatis Carolinae Iuridica (AUC Iuridica) is a legal journal published since 1955, which presents longer essays as well as short articles on topics relevant for legal theory and international, European and Czech law. It also publishes works concerning current legislative problems.
Although intended primarily for domestic audience, AUC Iuridica is useful also for foreign experts, who can take advantage of summaries in foreign languages (English, German and French) and key words, which are systematically added to the main articles and essays.
The published articles are subject to peer reviews. If necessary, reviewed texts are sent back to the author for revision.
AUC Iuridica accepts contributions from any contributor on any current legal topic.
The journal is registered in the Czech National Bibliography (kept by the National Library of the Czech Republic) and in the Index to Foreign Legal Periodicals (kept by the American Association of Law Libraries).
The journal is archived in Portico.
–––
We are pleased to inform you that the journal Acta Universitatis Carolinae Iuridica was the first journal of the Faculty of Law of Charles University to be included in the prestigious international database SCOPUS. This Elsevier database is the largest abstract and citation database of peer-reviewed literature in the world. The editors of the journal expect from the inclusion in the elite SCOPUS database not only an increase in the readership of the journal, but also an increase in interest in the publication of papers by both Czech and foreign authors.
Odvolání a jeho koncepce v návrhu trestního řádu
[Appeal and Its Concept in the Draft Criminal Procedure Code]
Jiří Říha
DOI: https://doi.org/10.14712/23366478.2023.30
published online: 15. 09. 2023
abstract
The article is focused on the appeal as an ordinary judicial remedy against a judgment and its procedure in the draft Criminal Procedure Code. The article presents the concept of legal regulation of appeals in the draft of the new Criminal Procedure Code prepared by the Commission for the New Criminal Procedure Code. It focuses on the basic foundations of the new regulation and the most significant changes compared to the current version of the Criminal Procedure Code in force in the Czech Republic.
keywords: appeal; remedy; draft Criminal Procedure Code
references (12)
1. BAXA, J. § 259 a § 264 tr. ř. In: ŠÁMAL, P. - PÚRY, F. - BAXA, J. - KRÁL, V. Trestní řád: komentář. Praha: C. H. Beck, SEVT, 1995, s. 1028-1030 a s. 1047.
2. BRUNNER, R. § 331 StPO [Verbot der Schlechterstellung]. In: SATZGER, H. - SCHLUCKEBIER, W. - WIDMAIER, G. a kol. StPO: Strafprozessordnung: Kommentar. Köln: Carl Heymanns Verlag, 2014, s. 1565-1570.
3. HALLER, K. - CONZEN, K. Das Strafverfahren: Eine systematische Darstellung mit Originalakte und Fallbeispielen. 6. Aufl. Heidelberg: C. F. Müller, 2011.
4. KARABÍN, M. § 322 odst. 3 a § 327 odst. 2 TP. In: ČENTÉŠ, J. a kol. Trestný poriadok: veľký komentár. 4. vyd. Bratislava: Eurokodex, 2019, s. 677 a 682.
5. KMEC, J. Kapitola XXXIII: Právo na odvolání v trestních věcech (čl. 2 Protokolu č. 7). In: KMEC, J. - KOSAŘ, D. - KRATOCHVÍL, J. - BOBEK, M. Evropská úmluva o lidských právech. Praha: C. H. Beck, 2012, s. 1397-1402.
6. KOUDELKA, L. Kritika návrhu nového českého trestního řádu v části týkající se řádných opravných prostředků. Soudce. 2021, roč. 26, č. 1, s. 11 a násl.
7. MULÁK, J. The Exeptions of the right to appeal in criminal matters under Article 2 of Protocol No. 7 to the ECHR. Czech Yearbook of Public and Private International Law [online]. 2022, Vol. 13, s. 177-190 [cit. 2023-06-01]. Dostupné na: https://rozkotova.cld.bz/CYIL-vol-13-2022/177/.
8. PÚRY, F. § 259 a § 264 tr. ř. In: ŠÁMAL, P. a kol. Trestní řád II. § 157-314: komentář. 7. vyd. Praha: C. H. Beck, 2013, s. 3085-3088 a 3130-3131.
9. ROLENC, O. § 259 a § 264 tr. ř. In: RŮŽEK, A. a kol. Trestní řád: komentář. I. díl. 2. přepr. a dopln. vyd. Praha: Panorama, 1981, s. 662 a s. 671-672.
10. SEILER, S. Strafprozessrecht. 7. Aufl. Wien: WUVUniversitätsverlag, 2004.
11. TYLMAN, J. in: GRZEGORCZYK, T. - TYLMAN, J. Polskie postępowanie karne. Wyd. 8. Warszawa: LexisNexis, 2011, s. 855, 860 a násl.
12. <bez popisu>

Odvolání a jeho koncepce v návrhu trestního řádu is licensed under a Creative Commons Attribution 4.0 International License.
230 x 157 mm
periodicity: 4 x per year
print price: 65 czk
ISSN: 0323-0619
E-ISSN: 2336-6478
Download