AUC IURIDICA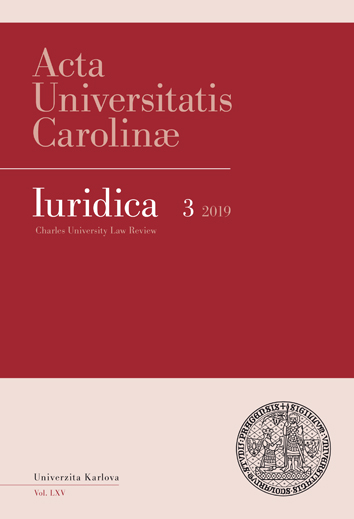 Acta Universitatis Carolinae Iuridica (AUC Iuridica) is a legal journal published since 1955, which presents longer essays as well as short articles on topics relevant for legal theory and international, European and Czech law. It also publishes works concerning current legislative problems.
Although intended primarily for domestic audience, AUC Iuridica is useful also for foreign experts, who can take advantage of summaries in foreign languages (English, German and French) and key words, which are systematically added to the main articles and essays.
The published articles are subject to peer reviews. If necessary, reviewed texts are sent back to the author for revision.
AUC Iuridica accepts contributions from any contributor on any current legal topic.
The journal is registered in the Czech National Bibliography (kept by the National Library of the Czech Republic) and in the Index to Foreign Legal Periodicals (kept by the American Association of Law Libraries).
The journal is archived in Portico.
Lex societatis vs. lex fori concursus v rakúskom medzinárodnom práve súkromnom
[Lex societatis vs. Lex fori concursus in Austrian Private International Law]
Dominik Králik
DOI: https://doi.org/10.14712/23366478.2019.35
announced: 19. 09. 2019
abstract
From the point of view of the international law of companies, Austria is a traditional continental type of legal culture in which the principle of residence is applied as the decisive criterion for determining the applicable company law. For the law of companies, the provisions of § 10 of the Austrian Private International Law Act are, as regards scope, conceived in the same way as the Czech Section 30 of the Private International Law Act. However, the Austrian lex societatis faces a much greater number of interpretation problems than its Czech "counter-party". This is due to the interference with European Union law, which enshrines for society's very important freedom of establishment. It was on the basis of the freedom of establishment argumentation that the SDEU's extensive case-law was modified, which the Austrian lex societatis largely modified on the basis of the seat.
keywords: Austrian Private International Law; International Business Law; Corporate Law
references (22)
1. ADENSAMER, N. J. Ein neues Kollisionsrecht für Gesellschaften. Vien: Linde Verlag Ges.m.b.H, 2006.
2. ČERNÁ, S.- ŠTENGLOVÁ, I. - PELIKÁNOVÁ, I. a kol. Právo obchodních korporací. 1. vydání. Praha: Wolters Kluwer, 2015.
3. ČERNÁ, S.: Ovlivnění jako nový klíčový pojem českého koncernového práva. Rekodifikace&Praxe, Praha: Sagit, 2014, č. 1.
4. ČERNÁ, S. Faktický koncern, ovládací smlouva a smlouva o převodu zisku. 2. rozšířené vyd. Praha: Linde, 2004.
5. ČERNÁ, S. Koncernové právo v Německu, Evropské unii a České republice. Praha: C.H. Beck, 1999.
6. EIDENMÜLLER. H. Gesellschaftsstatut und Insolvenzstatut. Rabels Zeitschrift (RabelsZ) 70, 2006. CrossRef
7. FAMA, E. F. - JENSEN, M. C. Agency Problems and Residual Claims. The Journal of Law & Economics. University of Chicago Press, 1983, vol. 26, issue 2. CrossRef
8. GERNER-BEUERLE, C. - MUCCIARELLI, F. - SCHUSTER, E. - SIEMS, M. The Private International Law of Companies in Europe. München: C. H. Beck, 2019. CrossRef
9. JACKSON, T. H. The logic and limits of bankruptcy law. Washington: Beard Books, 1986, s. 101.
10. KALLS, S. - NOVOTNY, CH. - SCHAUER. M. Österreichisches Gesellschaftsrecht. Wien: Manz, 2008.
11. KUČERA, Z. - PAUKNEROVÁ, M. - RŮŽIČKA, K. Mezinárodní právo soukromé. Praha: Aleš Čeněk, 2015.
12. LOKAJÍČEK. J. Doktrína Piercing the Corporate Veil neboli prolomení majetkové samostatnosti právnické osoby a její možnosti v českém obchodním právu. Právní rozhledy. Praha: C. H. Beck, 2011, č. 12.
13. LURGER, B. - MELCHER, M. Handbuch Internationales Privatrecht mit Hinweisen auf das Internationale Zivilverfahrensrecht. Wien: Verlag Österreich, 2017.
14. MITTERECKER, J. Grenzüberschreitende Sitzverlegungen. Wien: Verlag Österreich, 2015.
15. PAUKNEROVÁ, M. Společnosti v mezinárodním právu soukromém. Praha: Karolinum. 1998.
16. POLÁČEK, B. Právo mezinárodního obchodu. Praha: Wolters Kluwer, 2017.
17. RATKA, T. - RAUTER, R. - VÖLKL, C. Unternehmens- und Gesellschaftsrecht. Wien: Manz. 3. Auflage, 2017.
18. RAUSCHER, T. (Hrsg.) Europäisches Zivilprozess- und Kollisionsrecht: EuZPR/EuIPR : Kommentar. 4. Auflage. Köln: Otto Schmidt, 2016. CrossRef
19. RICHTER, T. Insolvenční právo. 2., doplněné a upravené vydání. Praha: Wolters Kluwer, 2017.
20. SANDROCK, O. Die Konkretisierung der Überlagerungstheorie in einigen zentralen Einzelfragen - Ein Beitrag zum internationalen Gesellschaftsrecht. In: SANDROCK, O. (Hrsg.): Festschrift für Günther Beitzke zum 70. Geburtstag, Berlin, New York, 1979,
21. UNCITRAL Legislative Guide on Insolvency Law. New York: United Nations, 2005.
22. VERSCHRAEGEN, B. Internationales Privatrecht. Wien: Manz, 2012.

Lex societatis vs. lex fori concursus v rakúskom medzinárodnom práve súkromnom is licensed under a Creative Commons Attribution 4.0 International License.
230 x 157 mm
published: 4 x per year
print price: 65 czk
ISSN: 0323-0619
E-ISSN: 2336-6478
Download