AUC IURIDICA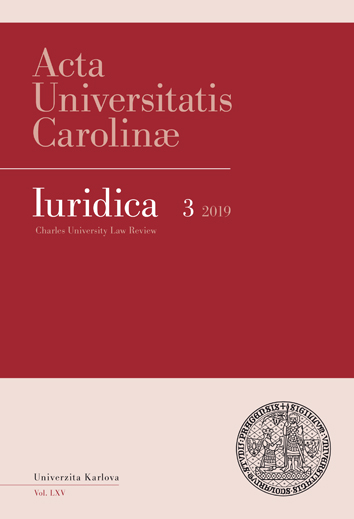 Acta Universitatis Carolinae Iuridica (AUC Iuridica) is a legal journal published since 1955, which presents longer essays as well as short articles on topics relevant for legal theory and international, European and Czech law. It also publishes works concerning current legislative problems.
Although intended primarily for domestic audience, AUC Iuridica is useful also for foreign experts, who can take advantage of summaries in foreign languages (English, German and French) and key words, which are systematically added to the main articles and essays.
The published articles are subject to peer reviews. If necessary, reviewed texts are sent back to the author for revision.
AUC Iuridica accepts contributions from any contributor on any current legal topic.
The journal is registered in the Czech National Bibliography (kept by the National Library of the Czech Republic) and in the Index to Foreign Legal Periodicals (kept by the American Association of Law Libraries).
The journal is archived in Portico.
Evropské energetické právo: vybrané novinky zimního energetického balíčku
[European Energy Law: Selected Winter Energy Packages]
Jiří Pokorný
DOI: https://doi.org/10.14712/23366478.2019.32
announced: 19. 09. 2019
abstract
The aim of this article is to briefly introduce the latest results of the European legislative process, the so-called winter package, in particular focusing on active consumers and capacity mechanisms, and put everything in context. At the end of the article there is a brief reflection on the appropriate way of incorporating changes into the Czech legal order and the attitude towards the energy union being built.
keywords: winter energy package; prosumer; aggregation; capacity mechanisms
references (10)
1. Trh s elektřinou: úvod do liberalizované energetiky. Vydání druhé, aktualizované. Praha: Asociace energetických manažerů, 2016. ISBN 978-80-260-9212-4.
2. BERAN, Hynek, Vladimír WAGNER a Václav PAČES, ed. Česká energetika na křižovatce. V Praze: Management Press, 2018. ISBN 978-80-7261-560-5.
3. Clean energy for all Europeans, first edition, European Commission , 2019, 978-92-79-99835-5. [online] dostupné z: https://publications.europa.eu/en/publication-detail/-/publication/b4e46873-7528-11e9-9f05-01aa75ed71a1/language-en?WT.mc_id=Searchresult&WT.ria_c=null&WT.ria_f=3608&WT.ria_ev=search
4. VRBOVÁ, Zuzana: Čtvrtý energetický balíček oficiálně schválen [online] dostupné z: https://oenergetice.cz/evropska-unie/ctvrty-energeticky-balicek-oficialne-schvalen/
5. KUČERA, Jakub: Elektrárenský gordický uzel III: Mechanismus zvaný kapacitní [online] dostupné z: http://ceskapozice.lidovky.cz/elektrarensky-gordicky-uzel-iii-mechanismus-zvany-kapacitni-pt9-/tema.aspx?c=A150605_133845_pozice-tema_kasa.
6. Clean energy for all Europeans, oficiální stránky Evropské komise [online] dostupné z:
7. https://ec.europa.eu/energy/en/topics/energy-strategy-and-energy-union/clean-energy-all-europeans
8. Státní energetická koncepce [online] dostupné z:
9. http://download.mpo.cz/get/52826/60155/632395/priloha004.pdf
10. ŠOLC, Pavel: Minulost, přítomnost a budoucnost české energetiky z praktického pohledu; přednáška v rámci předmětu Horní, energetické, atomové právo; PF UK 11.5.2019

Evropské energetické právo: vybrané novinky zimního energetického balíčku is licensed under a Creative Commons Attribution 4.0 International License.
230 x 157 mm
published: 4 x per year
print price: 65 czk
ISSN: 0323-0619
E-ISSN: 2336-6478
Download