AUC IURIDICA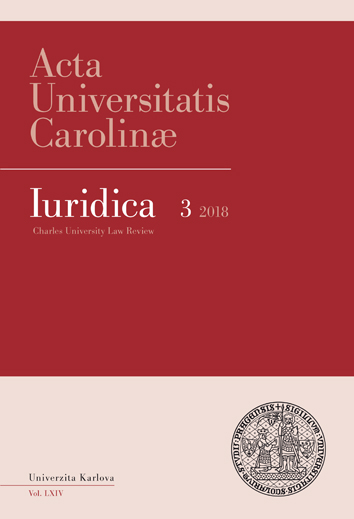 Acta Universitatis Carolinae Iuridica (AUC Iuridica) is a legal journal published since 1955, which presents longer essays as well as short articles on topics relevant for legal theory and international, European and Czech law. It also publishes works concerning current legislative problems.
Although intended primarily for domestic audience, AUC Iuridica is useful also for foreign experts, who can take advantage of summaries in foreign languages (English, German and French) and key words, which are systematically added to the main articles and essays.
The published articles are subject to peer reviews. If necessary, reviewed texts are sent back to the author for revision.
AUC Iuridica accepts contributions from any contributor on any current legal topic.
The journal is registered in the Czech National Bibliography (kept by the National Library of the Czech Republic) and in the Index to Foreign Legal Periodicals (kept by the American Association of Law Libraries).
The journal is archived in Portico.
–––
We are pleased to inform you that the journal Acta Universitatis Carolinae Iuridica was the first journal of the Faculty of Law of Charles University to be included in the prestigious international database SCOPUS. This Elsevier database is the largest abstract and citation database of peer-reviewed literature in the world. The editors of the journal expect from the inclusion in the elite SCOPUS database not only an increase in the readership of the journal, but also an increase in interest in the publication of papers by both Czech and foreign authors.
K postavení opozičního poslance v legislativním procesu za první republiky
[On the status of opposition deputies in the legislative procedure in the First Czechoslovak Republic]
Jindřiška Syllová
DOI: https://doi.org/10.14712/23366478.2018.20
published online: 03. 09. 2018
abstract
If we compare the current tendencies to restrict the rights of individual MPs to submit bills and amendments, to limit the right of speech, with the First Republic, the current efforts get closer to the First-Republic practice. The paper is describing legal provisions dealing with the individual MPs' rights of the First-Republic rules of procedure. Contemporary tendencies agree with the departure from strong MPs' individualism, which emerged as a negation of socialist voting unanimity. We may also observe the shift towards higher parliamentary party discipline, which corresponds to the characteristics of the Parliament of the First Republic.
keywords: bills; private bills; amendments; speech limitation; First Czechoslovak Republic
references (7)
1. BAXA, B. Parlament a parlamentarism: Parlament, jeho vývoj, složení a funkce. Praha, Jan Košatka. 1924.
2. BAXA, B. Parlament a parlamentarismus. In: HÁCHA, E. a další, Slovník veřejného práva československého, Svazek III., Brno: Polygrafia, 1934.
3. KOLÁŘ, P., KYSELA, J., SYLLOVÁ, J. a další. Parlament České republiky. Praha: Leges 2013.
4. PEŠKA, Z. Československá ústava a zákony s ní souvislé. Praha: Československý Kompas, 1935.
5. ŘÍHA, J. Jednací řády parlamentní. In: HÁCHA, E. a další, Slovník veřejného práva československého, Svazek II., Brno: Polygrafia, 1932.
6. WEYR, F. Soustava československého práva státního. Brno: Barvič a Novotný, 1921.
7. WINTR, J. Jednací řády našich parlamentů od roku 1861. Senát, č. 3, 2002.

K postavení opozičního poslance v legislativním procesu za první republiky is licensed under a Creative Commons Attribution 4.0 International License.
230 x 157 mm
periodicity: 4 x per year
print price: 65 czk
ISSN: 0323-0619
E-ISSN: 2336-6478
Download