AUC IURIDICA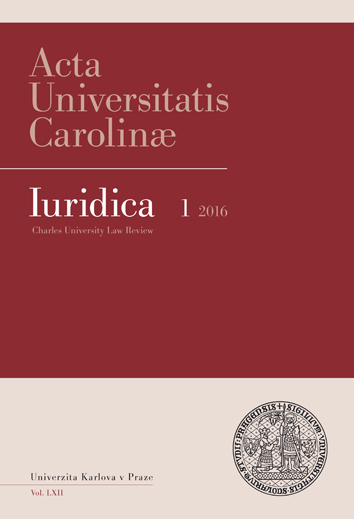 Acta Universitatis Carolinae Iuridica (AUC Iuridica) is a legal journal published since 1955, which presents longer essays as well as short articles on topics relevant for legal theory and international, European and Czech law. It also publishes works concerning current legislative problems.
Although intended primarily for domestic audience, AUC Iuridica is useful also for foreign experts, who can take advantage of summaries in foreign languages (English, German and French) and key words, which are systematically added to the main articles and essays.
The published articles are subject to peer reviews. If necessary, reviewed texts are sent back to the author for revision.
AUC Iuridica accepts contributions from any contributor on any current legal topic.
The journal is registered in the Czech National Bibliography (kept by the National Library of the Czech Republic) and in the Index to Foreign Legal Periodicals (kept by the American Association of Law Libraries).
The journal is archived in Portico.
Zpětné vystavení potvrzení o příslušnosti k právním předpisům a jeho následky nejen v oblasti práva sociálního zabezpečení
[Retroactive Issuance of a Certificate Dosumenting the State of Being Subject to Legal Regulations and Its Consequences not Only in the Field of Law of Social Security]
Martin Štefko
announced: 23. 05. 2016
abstract
This paper draws attention to the particularities of a certificate determining the applicability of legal regulations that is issued in connection with the co-ordination of social security schemes in the Member States of the EU, EEA and Switzerland. More frequently than ever before does an employee perform services in two or more Member States at the same time, which might lead to neglecting the duty to notify the respective host and home state agencies operating social security schemes of this. The consequences are usually fatal; by issuing the respective certificate retrospectively, the applicability of a single legal order is determined and all compulsory social security payments shall be solely made to the social security insurance schemes thereof.
keywords: social security law; coordination of social security schemes; migrant workers právo sociálního zabezpečení; koordinace sociálního zabezpečení; migrující pracovníci

Zpětné vystavení potvrzení o příslušnosti k právním předpisům a jeho následky nejen v oblasti práva sociálního zabezpečení is licensed under a Creative Commons Attribution 4.0 International License.
230 x 157 mm
published: 4 x per year
print price: 65 czk
ISSN: 0323-0619
E-ISSN: 2336-6478
Download