AUC IURIDICA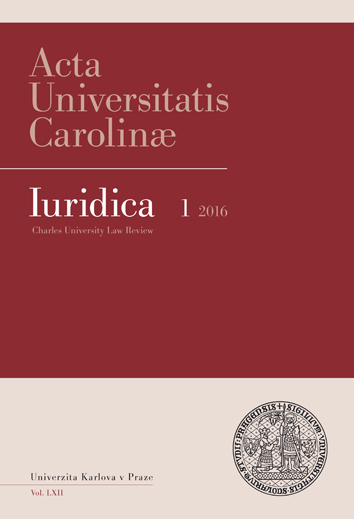 Acta Universitatis Carolinae Iuridica (AUC Iuridica) is a legal journal published since 1955, which presents longer essays as well as short articles on topics relevant for legal theory and international, European and Czech law. It also publishes works concerning current legislative problems.
Although intended primarily for domestic audience, AUC Iuridica is useful also for foreign experts, who can take advantage of summaries in foreign languages (English, German and French) and key words, which are systematically added to the main articles and essays.
The published articles are subject to peer reviews. If necessary, reviewed texts are sent back to the author for revision.
AUC Iuridica accepts contributions from any contributor on any current legal topic.
The journal is registered in the Czech National Bibliography (kept by the National Library of the Czech Republic) and in the Index to Foreign Legal Periodicals (kept by the American Association of Law Libraries).
The journal is archived in Portico.
Je možné změnit postavení romské menšiny v České republice pomocí vzdělávání? Zkušenosti z letní školy pro nadané mladé romské muzikanty
[Is It Possible to Improve the Position of the Roma Minority in the Czech Republic through Education? Experience Gained at the Summer School for Talented Young Musicians]
Michal Urban, Eliška Hodysová
announced: 23. 05. 2016
abstract
The paper deals with the discrimination of Roma minority in the Czech education system and measures designed to improve the current situation. Despite the steps already implemented by the Ministry of Education, Youth and Sport, Roma children are still overrepresented in schools for children suffering from light mental illness. Therefore Ministry of Education plans to introduce a system of support measures available to all children who need them. In order to maximize the effect of support measures, it will be necessary to collect data concerning abilities of each pupil and their other characteristics and analyze which support measure is the most suitable for them. The authors describe examples of the programs aimed at the support of Roma children in education, namely remedial education and support of education in families, scholarships, leisure time activities or pre-primary education. Particular attention is paid to the experience of authors gained by teaching basics of law at summer school for young Roma musicians. The authors described their work and formulated principles which they believe to be essential for a successful work with Roma children and the youth. The principles are following: long-term nature of support, positive experience, trust, use of activities which are attractive for children and overcoming of prejudices at both sides. Finally, the authors also emphasize that the programmes should be based on personal experience of participants. In conclusion, the authors argue that through education it is possible to improve the position of the Roma minority in the Czech Republic.
keywords: education; discrimination; Roma minority; educational projects; Romano drom výchova; diskriminace; romská menšina; vzdělávací projekty; Romano drom

Je možné změnit postavení romské menšiny v České republice pomocí vzdělávání? Zkušenosti z letní školy pro nadané mladé romské muzikanty is licensed under a Creative Commons Attribution 4.0 International License.
230 x 157 mm
published: 4 x per year
print price: 65 czk
ISSN: 0323-0619
E-ISSN: 2336-6478
Download