AUC IURIDICA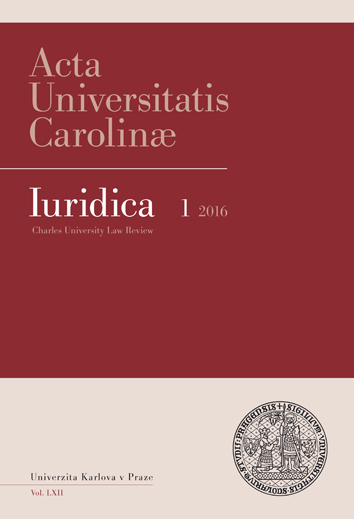 Acta Universitatis Carolinae Iuridica (AUC Iuridica) is a legal journal published since 1955, which presents longer essays as well as short articles on topics relevant for legal theory and international, European and Czech law. It also publishes works concerning current legislative problems.
Although intended primarily for domestic audience, AUC Iuridica is useful also for foreign experts, who can take advantage of summaries in foreign languages (English, German and French) and key words, which are systematically added to the main articles and essays.
The published articles are subject to peer reviews. If necessary, reviewed texts are sent back to the author for revision.
AUC Iuridica accepts contributions from any contributor on any current legal topic.
The journal is registered in the Czech National Bibliography (kept by the National Library of the Czech Republic) and in the Index to Foreign Legal Periodicals (kept by the American Association of Law Libraries).
The journal is archived in Portico.
Stavební právo a sakrální stavby
[Building Law nad Sacred Buildings]
Petr Svoboda
announced: 23. 05. 2016
abstract
The paper deals with the two main legal aspects concerning the buildings constructed and/ or used for religious purpuses (sacred buildings). The first aspect implies fundamental constitutional questoins concerning the relationship between constitutional freedom of religion and right to own and enjoy one's property on one hand and the possible restrictions imposed by law on these constitutional rights and freedoms on the other hand. The second aspect covers selected questions of czech building law with the special regard to spacial planning, location, construction and usage of sacred buldings.
keywords: freedom of religion; spacial planning; construction and usage of sacred buildings náboženská svoboda; územní plánování; výstavba a užívání sakrálních staveb

Stavební právo a sakrální stavby is licensed under a Creative Commons Attribution 4.0 International License.
230 x 157 mm
published: 4 x per year
print price: 65 czk
ISSN: 0323-0619
E-ISSN: 2336-6478
Download