AUC IURIDICA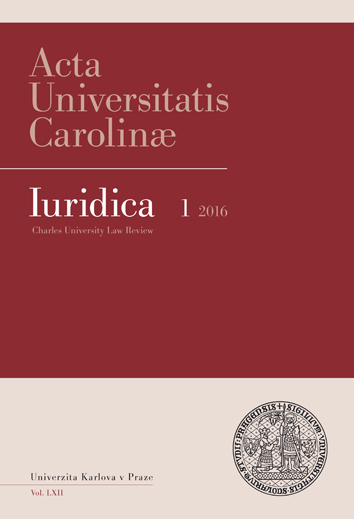 Acta Universitatis Carolinae Iuridica (AUC Iuridica) is a legal journal published since 1955, which presents longer essays as well as short articles on topics relevant for legal theory and international, European and Czech law. It also publishes works concerning current legislative problems.
Although intended primarily for domestic audience, AUC Iuridica is useful also for foreign experts, who can take advantage of summaries in foreign languages (English, German and French) and key words, which are systematically added to the main articles and essays.
The published articles are subject to peer reviews. If necessary, reviewed texts are sent back to the author for revision.
AUC Iuridica accepts contributions from any contributor on any current legal topic.
The journal is registered in the Czech National Bibliography (kept by the National Library of the Czech Republic) and in the Index to Foreign Legal Periodicals (kept by the American Association of Law Libraries).
The journal is archived in Portico.
K buddhismu u Vietnamců v České republice: Od nenápadných počátků v ideovou páteř vietnamské diaspory ve střední Evropě?
[Vietnamese Buddhism in the Czech Republic: From Cautious Beginnings to an Ideological Backbone for the Vietnamese Diaspora in Central Europe?]
Stanislav Brouček
announced: 23. 05. 2016
abstract
When the Vietnamese in the Czech Republic think about the function and importance of Buddhism for their own adaptation to the Czech environment, three basic levels have to be distinguished. First, in the Buddhist tradition ancestor worship and respect for previous generations is the basis for the extraordinary intergenerational solidarity, which can be seen in Vietnamese families. Secondly, Buddhism is evidently linked to a cult of wealth. We may see examples of rich members of the community who provide financial assistance to the establishment and operation of Buddhist temples. Thirdly, we can see signs that Buddhism serves as a tool of identification for members of the newly established national minority and unites them with the home country, i.e. the Socialist Republic of Vietnam.
keywords: Vietnamese in the Czech Republic; integration; Buddhism Vietnamci v České republice; integrace; buddhismus

K buddhismu u Vietnamců v České republice: Od nenápadných počátků v ideovou páteř vietnamské diaspory ve střední Evropě? is licensed under a Creative Commons Attribution 4.0 International License.
230 x 157 mm
published: 4 x per year
print price: 65 czk
ISSN: 0323-0619
E-ISSN: 2336-6478
Download