AUC IURIDICA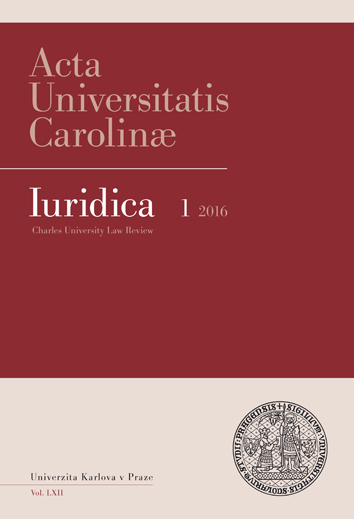 Acta Universitatis Carolinae Iuridica (AUC Iuridica) is a legal journal published since 1955, which presents longer essays as well as short articles on topics relevant for legal theory and international, European and Czech law. It also publishes works concerning current legislative problems.
Although intended primarily for domestic audience, AUC Iuridica is useful also for foreign experts, who can take advantage of summaries in foreign languages (English, German and French) and key words, which are systematically added to the main articles and essays.
The published articles are subject to peer reviews. If necessary, reviewed texts are sent back to the author for revision.
AUC Iuridica accepts contributions from any contributor on any current legal topic.
The journal is registered in the Czech National Bibliography (kept by the National Library of the Czech Republic) and in the Index to Foreign Legal Periodicals (kept by the American Association of Law Libraries).
The journal is archived in Portico.
"Žlutá hvězda" jako diskriminační označení v protektorátu Čechy a Morava. Většinové prožitky, menšinové reakce a symbolika perzekuce
[The "Yellow Badge" as a Symbol of Discrimination in the Protectorate of Bohemia and Moravia. Majority Experiences, Minority Reactions and Symbolic Persecution]
Blanka Soukupová
announced: 23. 05. 2016
abstract
Social scientists often quote the idea of Max Weber that a symbol is not possible without social dialogue. Symbols may certainly fulfill the function of integration of certain groups and of strengthening their sense of belonging. But at the same time symbols may serve for the demonstration of power: So, they may deepen social and emotional insecurity of those against whom they are directed. In this article we deal with the painful experience of unfair discrimination that is linked to the "yellow star" – a yellow six-pointed star with the word "Jude" (German word for Jew) across the front in black which had to be used by Protectorate Jews after 1941. Already in 1939 the star as a symbol of discrimination had prescribed for Polish Jews.
keywords: protectorate; discrimination; Jews; "yellow star" protektorát; diskriminace; Židé; "žlutá hvězda"

"Žlutá hvězda" jako diskriminační označení v protektorátu Čechy a Morava. Většinové prožitky, menšinové reakce a symbolika perzekuce is licensed under a Creative Commons Attribution 4.0 International License.
230 x 157 mm
published: 4 x per year
print price: 65 czk
ISSN: 0323-0619
E-ISSN: 2336-6478
Download