AUC IURIDICA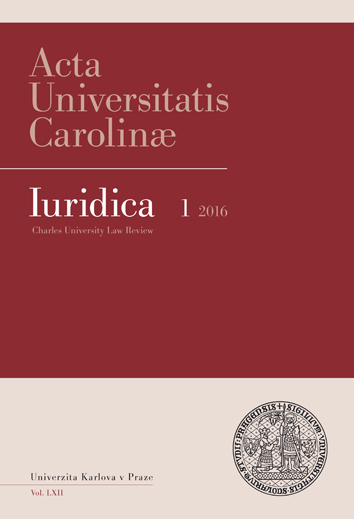 Acta Universitatis Carolinae Iuridica (AUC Iuridica) is a legal journal published since 1955, which presents longer essays as well as short articles on topics relevant for legal theory and international, European and Czech law. It also publishes works concerning current legislative problems.
Although intended primarily for domestic audience, AUC Iuridica is useful also for foreign experts, who can take advantage of summaries in foreign languages (English, German and French) and key words, which are systematically added to the main articles and essays.
The published articles are subject to peer reviews. If necessary, reviewed texts are sent back to the author for revision.
AUC Iuridica accepts contributions from any contributor on any current legal topic.
The journal is registered in the Czech National Bibliography (kept by the National Library of the Czech Republic) and in the Index to Foreign Legal Periodicals (kept by the American Association of Law Libraries).
The journal is archived in Portico.
Náboženské symboly a náboženská svoboda v sekulární Evropě
[Religious Symbols and Religious Freedom in the Secular Europe]
Kateřina Děkanovská
announced: 23. 05. 2016
abstract
This article applies the perspective of Religious Sciences to the topic of what is the relation between religion and secular society in Europe. Particularly, it sets a basic typology of religious symbols and explains its meanings and dynamics. Similarly, it shows the secular alternative – symbols of secularism with latent sacred meaning. Finally, the author discusses the current relation between European secular majority and religious minority in context of the struggle for democracy, social as well as personal freedom and recent rise of extremism presented as religious.
keywords: religion; secularism; religious symbols; freedom of religions and beliefs náboženství; sekularismus; náboženské symboly; svoboda náboženství a vyznání

Náboženské symboly a náboženská svoboda v sekulární Evropě is licensed under a Creative Commons Attribution 4.0 International License.
230 x 157 mm
published: 4 x per year
print price: 65 czk
ISSN: 0323-0619
E-ISSN: 2336-6478
Download