AUC IURIDICA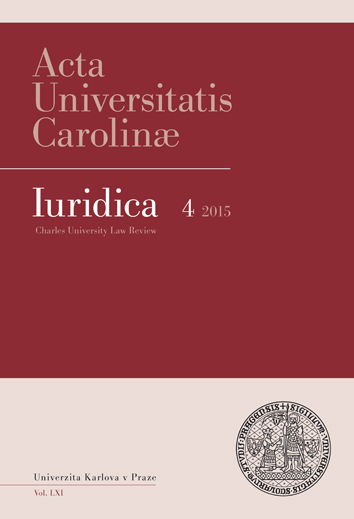 Acta Universitatis Carolinae Iuridica (AUC Iuridica) is a legal journal published since 1955, which presents longer essays as well as short articles on topics relevant for legal theory and international, European and Czech law. It also publishes works concerning current legislative problems.
Although intended primarily for domestic audience, AUC Iuridica is useful also for foreign experts, who can take advantage of summaries in foreign languages (English, German and French) and key words, which are systematically added to the main articles and essays.
The published articles are subject to peer reviews. If necessary, reviewed texts are sent back to the author for revision.
AUC Iuridica accepts contributions from any contributor on any current legal topic.
The journal is registered in the Czech National Bibliography (kept by the National Library of the Czech Republic) and in the Index to Foreign Legal Periodicals (kept by the American Association of Law Libraries).
The journal is archived in Portico.
–––
We are pleased to inform you that the journal Acta Universitatis Carolinae Iuridica was the first journal of the Faculty of Law of Charles University to be included in the prestigious international database SCOPUS. This Elsevier database is the largest abstract and citation database of peer-reviewed literature in the world. The editors of the journal expect from the inclusion in the elite SCOPUS database not only an increase in the readership of the journal, but also an increase in interest in the publication of papers by both Czech and foreign authors.
Jazyková práva národnostních menšin na Slovensku: úřední styk a topografické údaje z hlediska standardu jazykové spravedlnosti
[Language Rights of National Minorities in Slovakia: Official Communication and Topographical Indications according to the Standard of Linguistic Justice]
Jaroslav Větrovský
published online: 06. 01. 2016
abstract
Linguistic rights represent a key element of the minority rights protection system in Slovakia. Both the use of minority languages in relation to state authorities and in displaying the topographical indications are allowed. The rights are nevertheless subject to several limitations which in fact make them inaccessible for a considerable part of the Slovak minority population. Some of the limitations seem reasonable. Other, however, shall be considered neither necessary, nor just, intensifying inequality among the Slovak citizens according to the language group they belong to.
keywords: minority rights; language; official communication; topographical indications; Slovakia menšinová práva; jazyk; úřední styk; topografické údaje; Slovenská republika

Jazyková práva národnostních menšin na Slovensku: úřední styk a topografické údaje z hlediska standardu jazykové spravedlnosti is licensed under a Creative Commons Attribution 4.0 International License.
230 x 157 mm
periodicity: 4 x per year
print price: 65 czk
ISSN: 0323-0619
E-ISSN: 2336-6478
Download