AUC IURIDICA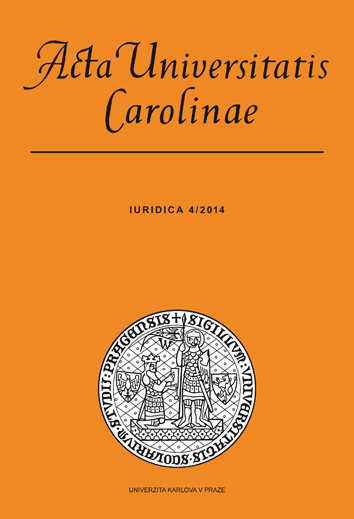 Acta Universitatis Carolinae Iuridica (AUC Iuridica) is a legal journal published since 1955, which presents longer essays as well as short articles on topics relevant for legal theory and international, European and Czech law. It also publishes works concerning current legislative problems.
Although intended primarily for domestic audience, AUC Iuridica is useful also for foreign experts, who can take advantage of summaries in foreign languages (English, German and French) and key words, which are systematically added to the main articles and essays.
The published articles are subject to peer reviews. If necessary, reviewed texts are sent back to the author for revision.
AUC Iuridica accepts contributions from any contributor on any current legal topic.
The journal is registered in the Czech National Bibliography (kept by the National Library of the Czech Republic) and in the Index to Foreign Legal Periodicals (kept by the American Association of Law Libraries).
The journal is archived in Portico.
Souběh funkcí po rekodifikaci
[Concurrence of Functions after Recodification]
Jakub Tomšej
announced: 01. 04. 2015
abstract
This article examines the topic of concluding employment agreements with the members of bodies of Czech companies (such as, inter alia, executive directors of limited liability companies and members of the board of directors of joint stock companies) and simultaneous employment and directorship. The article describes case law and the development of legislation regarding this topic and provides an analysis of the topic under the current legislation (i.e. new Civil Code and Act on Corporations). The article comes to the conclusion that the current legal regulation does not support the idea that members of bodies of Czech companies should carry out their activity for the company on the basis of employment contract. This however does not necessarily mean that such employment agreement has to be deemed invalid. The article details certain examples of provisions in the employment agreements and analyses how these shall be interpreted in a given situation.
keywords: employment; executive bodies; simultaneous employment and directorship zaměstnání; výkonné orgány; souběh funkcí a ředitelství

Souběh funkcí po rekodifikaci is licensed under a Creative Commons Attribution 4.0 International License.
230 x 157 mm
published: 4 x per year
print price: 65 czk
ISSN: 0323-0619
E-ISSN: 2336-6478
Download