AUC IURIDICA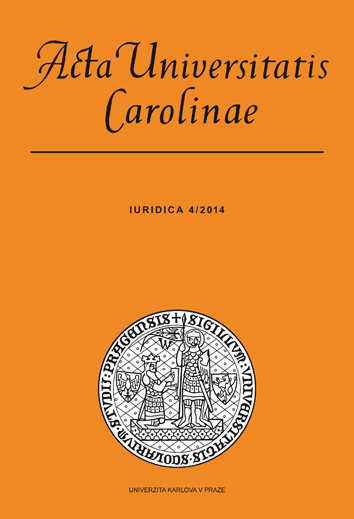 Acta Universitatis Carolinae Iuridica (AUC Iuridica) is a legal journal published since 1955, which presents longer essays as well as short articles on topics relevant for legal theory and international, European and Czech law. It also publishes works concerning current legislative problems.
Although intended primarily for domestic audience, AUC Iuridica is useful also for foreign experts, who can take advantage of summaries in foreign languages (English, German and French) and key words, which are systematically added to the main articles and essays.
The published articles are subject to peer reviews. If necessary, reviewed texts are sent back to the author for revision.
AUC Iuridica accepts contributions from any contributor on any current legal topic.
The journal is registered in the Czech National Bibliography (kept by the National Library of the Czech Republic) and in the Index to Foreign Legal Periodicals (kept by the American Association of Law Libraries).
The journal is archived in Portico.
Práce člena pro družstvo před a po rekodifikaci
[Member's Work for the Cooperative Before and after the Recodification]
Jan Pichrt
announced: 01. 04. 2015
abstract
Production cooperatives in the Czech Republic have a tradition dating back to the second half of the 19th century. Although in the period after 1948, the property aspect of the relationship of a member to the cooperative was gradually weakening and an emphasis on performance of work activity of a member for the cooperative was strengthening, working relationships of members of cooperatives were also during the period of socialism characterized by many deviations from the general regulation of an employment relationship which reflected the specifics and traditions of cooperatives. The author considers some consequences of the fact that after the recodification of private law, the working relationships of the members of cooperatives to cooperatives, are already governed (without any deviations) by the general regulation of the employment relationship.
keywords: industrial relationship; production cooperative; membership in the cooperative; mandatory and dispositive legal regulation pracovní vztah; výrobní družstvo; členství v družstvu; mandatorní a dispozitivní právní regulace

Práce člena pro družstvo před a po rekodifikaci is licensed under a Creative Commons Attribution 4.0 International License.
230 x 157 mm
published: 4 x per year
print price: 65 czk
ISSN: 0323-0619
E-ISSN: 2336-6478
Download