AUC IURIDICA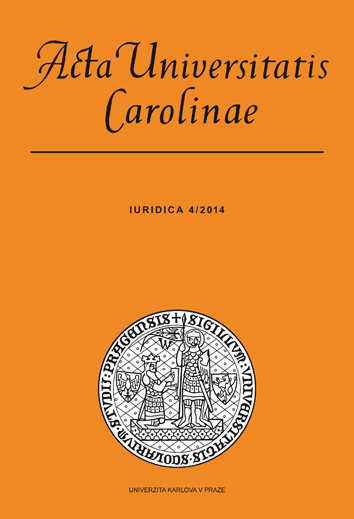 Acta Universitatis Carolinae Iuridica (AUC Iuridica) is a legal journal published since 1955, which presents longer essays as well as short articles on topics relevant for legal theory and international, European and Czech law. It also publishes works concerning current legislative problems.
Although intended primarily for domestic audience, AUC Iuridica is useful also for foreign experts, who can take advantage of summaries in foreign languages (English, German and French) and key words, which are systematically added to the main articles and essays.
The published articles are subject to peer reviews. If necessary, reviewed texts are sent back to the author for revision.
AUC Iuridica accepts contributions from any contributor on any current legal topic.
The journal is registered in the Czech National Bibliography (kept by the National Library of the Czech Republic) and in the Index to Foreign Legal Periodicals (kept by the American Association of Law Libraries).
The journal is archived in Portico.
Autonomie vůle a ochrana zaměstnance v pracovním právu v éře nového občanského zákoníku
[Autonomy of Will and Protection of Employees in the Era of the New Civil Code]
Petr Hůrka
announced: 01. 04. 2015
abstract
This article deals with fundamental Labour Law principles in the era of the New Civil Code in the Czech Republic. It successively touches on the basic principles of Labour Law and Civil Law; analyses freedom of contract on the one hand and the protection of the employee on the other hand and searches for a way to reflect both in the legal order and defines the specifics of actual employment relations. It attempts to attain the heading of Labour Law de lege ferenda.
keywords: labour law; employment relations; automony of will; protection of employees; new civil code; fundamental principals of law pracovní právo; pracovněprávní vztahy; svobodná vůle; ochrana zaměstnanců; nový občanský zákoník; základní právní principy

Autonomie vůle a ochrana zaměstnance v pracovním právu v éře nového občanského zákoníku is licensed under a Creative Commons Attribution 4.0 International License.
230 x 157 mm
published: 4 x per year
print price: 65 czk
ISSN: 0323-0619
E-ISSN: 2336-6478
Download