AUC IURIDICA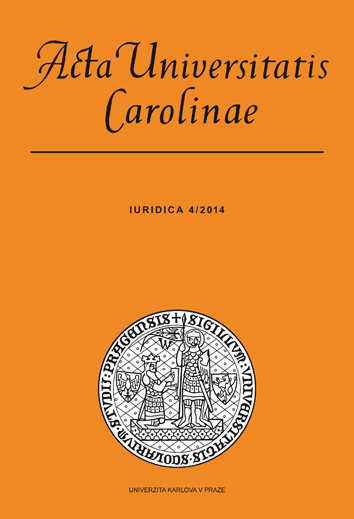 Acta Universitatis Carolinae Iuridica (AUC Iuridica) is a legal journal published since 1955, which presents longer essays as well as short articles on topics relevant for legal theory and international, European and Czech law. It also publishes works concerning current legislative problems.
Although intended primarily for domestic audience, AUC Iuridica is useful also for foreign experts, who can take advantage of summaries in foreign languages (English, German and French) and key words, which are systematically added to the main articles and essays.
The published articles are subject to peer reviews. If necessary, reviewed texts are sent back to the author for revision.
AUC Iuridica accepts contributions from any contributor on any current legal topic.
The journal is registered in the Czech National Bibliography (kept by the National Library of the Czech Republic) and in the Index to Foreign Legal Periodicals (kept by the American Association of Law Libraries).
The journal is archived in Portico.
Smrt zaměstnavatele a přechod práv a povinností z pracovněprávních vztahů
[Death of an Employer and Transfer of Rights and Obligations from Industrial Relations]
Ljubomír Drápal
announced: 01. 04. 2015
abstract
This article deals with the death of a natural person as a legal event giving rise to rights and obligations for other persons and the administration of the estate which is performed at the time of death of the deceased until the end of proceedings on the estate. As the subject of the administration of the estate is also deemed performance of rights and obligations of the deceased as an employer. Where the activities and tasks of the deceased employer are associated with the inheritance fortune, they pass under the conditions specified in Section 338 of the Labour Code to the heir as the successor employer or to persons who acquire the property of the deceased as legatees or during liquidation of the estate. Extinction of the fundamental industrial relationships upon the death of an employer who is a natural person, under Section 342 of the Labour Code, comes into consideration only in those cases where the rights and obligations arising from industrial relations has not passed (could not pass) to the transferee employer.
keywords: death of an employer; transfer of rights and obligations from industrial relations; estate administration; legatee; estate liquidation smrt zaměstnavatele; přechod práv a povinností z pracovněprávních vztahů; správa pozůstalosti; dědic; likvidace pozůstalosti

Smrt zaměstnavatele a přechod práv a povinností z pracovněprávních vztahů is licensed under a Creative Commons Attribution 4.0 International License.
230 x 157 mm
published: 4 x per year
print price: 65 czk
ISSN: 0323-0619
E-ISSN: 2336-6478
Download