REFLEXE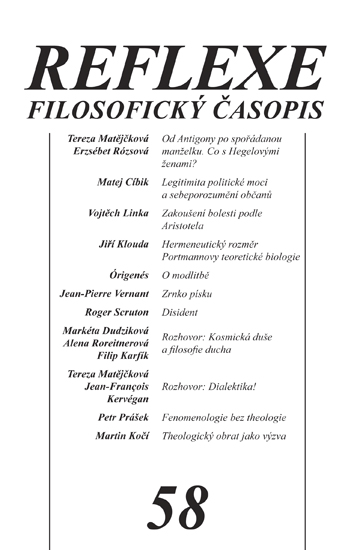 Časopis Reflexe byl založen v r. 1985 Ladislavem Hejdánkem a do r. 1989 vyšla tři samizdatová čísla, jež byla v r. 1990 vydána také tiskem. Od tohoto roku vychází časopis nejprve čtyřikrát a později dvakrát ročně. Zaměřuje se na původní studie z filosofie a theologie. Přináší také překlady významných textů světové filosofie, hlavní důraz však klade na autorskou tvorbu. Jeho nepostradatelnou součástí jsou recenze české i světové filosofické literatury.
Hermeneutický rozměr Portmannovy teoretické biologie
[The Hermeneutic Dimension of Portmann's Theoretical Biology]
Jiří Klouda
DOI: https://doi.org/10.14712/25337637.2020.23
zveřejněno: 15. 09. 2020
Abstract
The author draws on the controversy over the reception of Portmann's new "morphology" that has not been accepted by professional biologists, while philosophers have entertained and cherished it up to these days. In addition to the texts that attempt to reform morphology, where Portmann articulates crucial concepts of "form" (Gestalt), and its authentic appearance, the paper also takes into account the series of treatises in which Portmann develops his distinctive theory of human approach to the world. The second family of texts is vital, since it is here that the "aesthetic vantage point on the world" or "the primary standpoint", in which form is accessible to one's experience, is gradually formulated. When examining these epistemological assumptions, Portmann encounters a variety of philosophical issues that he himself did not find necessary to resolve. Also, the fact that in his lifetime Portmann inquired into and published epistemological assumptions separately from his texts on the morphological project was the cause that, on the surface, his theoretically-biological concept seems more empirical and objective than it is needed. The second part of the paper focuses on the philosophical dimension of Portmann's work that he spotted but had never elaborated on. The author points out that Portmann's crucial concepts are not empirically objective in their nature. He argues that his morphology exhibits distinct features of a hermeneutic model of knowledge. Its aim is not to produce exclusively scientific knowledge but thematize prescientific assumptions of one's knowledge of the living world, and to sustain them in mutual contact with a natural-scientific and biological inquiry, by which they shall both develop in harmony. A global level of this dialectics consists of the dynamic relationship of complementary mental powers of one's cognition: senses and rationality.

Hermeneutický rozměr Portmannovy teoretické biologie is licensed under a Creative Commons Attribution 4.0 International License.
202 x 130 mm
vychází: 2 x ročně
cena tištěného čísla: 128 Kč
ISSN: 0862-6901
E-ISSN: 2533-7637
Ke stažení