PRAGUE MEDICAL REPORT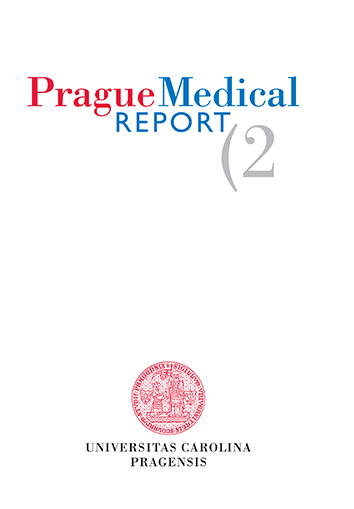 Prague Medical Report je víceoborový biomedicínský časopis publikující původní recenzované vědecké články, přehledové a případové studie a krátké zprávy v angličtině. Časopis založený v roce 1885 jako Sborník lékařský vychází čtyřikrát ročně.
Liposteroid Therapy for Idiopathic Pulmonary Hemosiderosis: A Scoping Review of the Literature
Biplab K. Saha, Nils T. Milman
DOI: https://doi.org/10.14712/23362936.2022.7
zveřejněno: 05. 05. 2022
Abstract
Idiopathic pulmonary hemosiderosis (IPH) is a rare cause of diffuse alveolar hemorrhage (DAH). Glucocorticosteroids (CS) represent the first line therapy for IPH. Although most patients respond to CS, steroid refractoriness is seen in an appreciable minority of patients. This paper reviews and evaluates the efficacy and safety profile of liposomal dexamethasone 21-palmitate (liposteroid) for the treatment of IPH. Medline, Embase and Web of Science biomedical databases were searched between 1980 and 2020 to identify papers describing patients with IPH, who were treated with liposteroid. A total of five articles were identified. Four in the form of case reports and one as a case series. A total of 12 pediatric patients (5 boys, 7 girls) were identified, with a median age of 2.3 years (range 0.5–8.6). Liposteroid therapy in intravenous doses ranging 0.06–0.1 mg/kg body weight appeared to be effective for both remission induction therapy, and maintenance therapy. There was no mortality among patients treated with liposteroid, either in the acute phase or during follow-up. The majority of patients for whom long-term follow-up data were available, were cured or in disease remission. No acute adverse events were reported, and long-term side effects were minimal and tolerable. Liposteroid represents a potential alternative or supplement to conventional CS therapy, as it appears to be more efficacious and associated with fewer side effects. Larger prospective, controlled trials are necessary to be able to define more precisely the therapeutic role of liposteroid in IPH.
Klíčová slova: Dexamethasone; Therapeutic use; Dexamethasone 21-palmitate; Diffuse alveolar haemorrhage; Idiopathic pulmonary hemosiderosis

Liposteroid Therapy for Idiopathic Pulmonary Hemosiderosis: A Scoping Review of the Literature is licensed under a Creative Commons Attribution 4.0 International License.
167 x 240 mm
vychází: 4 x ročně
cena tištěného čísla: 450 Kč
ISSN: 1214-6994
E-ISSN: 2336-2936
Ke stažení