EUROPEAN JOURNAL OF ENVIRONMENTAL SCIENCES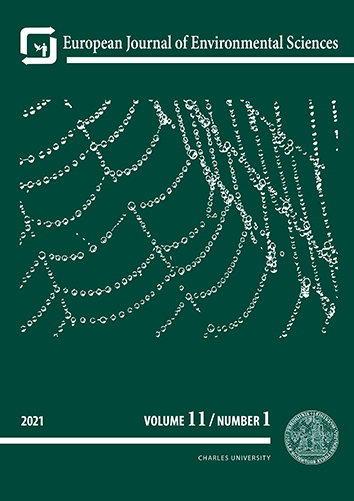 European Journal of Environmental Sciences nabízí původní recenzované články z oblasti environmentálních věd, mnohdy inter- a transdisciplinární povahy se zvláštním zřetelem na evropské problémy. Časopis rovněž publikuje kritické shrnující texty a přehledy situace v oblasti ochrany životního prostředí v konkrétních regionech a zemích. Zaměřuje se na širokou škálu témat, jako například přímé a nepřímé interakce živých a neživých složek životního prostředí, interakce s lidskou společností nebo environmentální udržitelnost.
A review of global land cover maps in terms of their potential use for habitat suitability modelling
Anastasia Linyucheva, Pavel Kindlmann
DOI: https://doi.org/10.14712/23361964.2021.6
zveřejněno: 20. 06. 2021
Abstract
Recently, there has been a significant increase in number of land cover maps available to researchers and they are now more commonly used. The broad variety requires some system for determining the differences between maps and for estimating their applicability for specific research purposes. We focused on comparing land cover maps from the point of view of how the land cover categories used characterize potentially suitable habitats for species. This comparison includes only freely available global land cover projects with resolutions from 1 km to 10 m. The criteria chosen were temporal and spatial resolution, number of classes and map precision. To demonstrate the differences, two areas of different sizes were always chosen. Our results reveal that maps can significantly vary in their estimates of different types of land cover, even at the same spatial resolution. Results also revealed that one type of vegetation in this area is poorly recorded in all land cover maps. Copernicus CGLS-LC100 and ESA CCI-LC maps appear to be the most suitable for evaluating potentially suitable habitats.
Klíčová slova: comparison; Copernicus; ESA; FAO; habitat connectivity; habitat suitability

A review of global land cover maps in terms of their potential use for habitat suitability modelling is licensed under a Creative Commons Attribution 4.0 International License.
210 x 297 mm
vychází: 2 x ročně
cena tištěného čísla: 150 Kč
ISSN: 1805-0174
E-ISSN: 2336-1964
Ke stažení