EUROPEAN JOURNAL OF ENVIRONMENTAL SCIENCES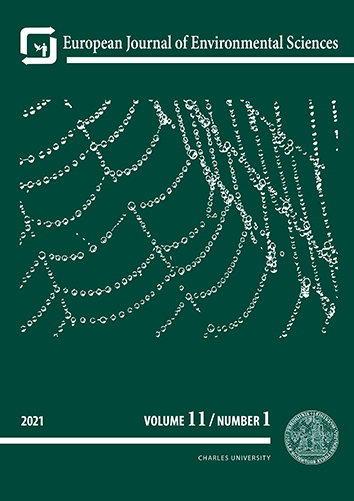 European Journal of Environmental Sciences nabízí původní recenzované články z oblasti environmentálních věd, mnohdy inter- a transdisciplinární povahy se zvláštním zřetelem na evropské problémy. Časopis rovněž publikuje kritické shrnující texty a přehledy situace v oblasti ochrany životního prostředí v konkrétních regionech a zemích. Zaměřuje se na širokou škálu témat, jako například přímé a nepřímé interakce živých a neživých složek životního prostředí, interakce s lidskou společností nebo environmentální udržitelnost.
The status of commons in the changing landscape in the Czech Republic
Alžběta Vosmíková, Zdenka Křenová
DOI: https://doi.org/10.14712/23361964.2021.2
zveřejněno: 20. 06. 2021
Abstract
Commons were ancient pastures, which once occurred in every village in many countries, including the Czech Republic. They have been a landscape and social phenomenon for decades. However, social and economic changes brought an end to community ownership and traditional management of these commons. The number of commons has been decreasing since the middle of the 19th century and currently very few remain. This paper evaluates the status of former commons in 35 cadastres in south-western Bohemia and describes the changes they have undergone in the last two hundred years. Three historical periods were identified as the main drivers in the changes in the status of commons. We started with a period from the middle of the 19th century to the 1950s, the second from 1950s to 1990s and the last from 1990s to 2019. Aerial images and field surveys revealed that 93% of former commons disappeared due to afforestation, conversion to fields and natural succession occurring on abandoned commons. The social and economic aspects associated with these changes are mentioned. Some of the commons are part of the Territorial system of landscape ecological stability (Ecological networks) and we suggest that more of the remaining commons should be included in this network. They could play a role in maintaining biodiversity and providing stepping stones in a uniform agriculture landscape. We propose to evaluate the conservation and ecosystem value of these commons in more detail and set up the appropriate management essential for the preservation or restoration of commons, an indisputable part of our biological and cultural heritage.
Klíčová slova: aerial images; commons; historical maps; land use changes

The status of commons in the changing landscape in the Czech Republic is licensed under a Creative Commons Attribution 4.0 International License.
210 x 297 mm
vychází: 2 x ročně
cena tištěného čísla: 150 Kč
ISSN: 1805-0174
E-ISSN: 2336-1964
Ke stažení