EUROPEAN JOURNAL OF ENVIRONMENTAL SCIENCES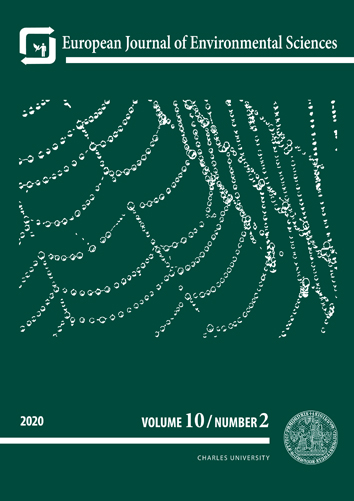 European Journal of Environmental Sciences nabízí původní recenzované články z oblasti environmentálních věd, mnohdy inter- a transdisciplinární povahy se zvláštním zřetelem na evropské problémy. Časopis rovněž publikuje kritické shrnující texty a přehledy situace v oblasti ochrany životního prostředí v konkrétních regionech a zemích. Zaměřuje se na širokou škálu témat, jako například přímé a nepřímé interakce živých a neživých složek životního prostředí, interakce s lidskou společností nebo environmentální udržitelnost.
Assessment of landscape quality based on the perception of people: study of two parks in Newcastle upon Tyne
Sepideh Shahamati
DOI: https://doi.org/10.14712/23361964.2020.8
zveřejněno: 09. 12. 2021
Abstract
People experience different types of landscapes every day. The quality of these landscapes has a major effect on their psychological well-being and general satisfaction of a place. Determining the quality of landscapes is an important issue for policy makers and planners, especially when making decisions about the conservation or transformation of urban landscapes. Defining quality based on people's perception has received significant attention from planners and decision makers as it can lead to greater public involvement and improve the reliability of the decisions. This research aimed to determine the criteria important for landscape quality assessment by using walk-and-talk interviews in two green landscapes in Newcastle upon Tyne (UK). The attributes affecting people's choices include naturalness, locomotion, smoothness, surprise, variety, sense of place, tranquillity, rarity, legibility, safety, complexity, mystery, openness, accessibility, maintenance and management. Not all of these attributes have the same weight, as some are more influential in determining people's preferences, however, categorizing them into primary and secondary attributes, provided a means of evaluating landscape that is less costly and time-consuming.
Klíčová slova: landscape evaluation; landscape perception; landscape quality attributes; people's preferences; urban parks

Assessment of landscape quality based on the perception of people: study of two parks in Newcastle upon Tyne is licensed under a Creative Commons Attribution 4.0 International License.
210 x 297 mm
vychází: 2 x ročně
cena tištěného čísla: 150 Kč
ISSN: 1805-0174
E-ISSN: 2336-1964
Ke stažení