CENTRAL EUROPEAN JOURNAL FOR CONTEMPORARY RELIGION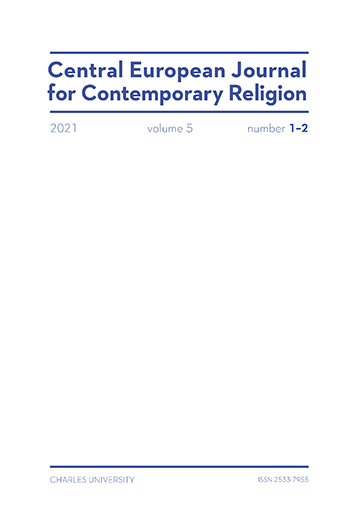 Central European Journal for Contemporary Religion is a scholarly journal published both by the Hussite Theological Faculty of the Charles University and Karolinum Publishers, which aims to serve as a publication platform for Comparative Religion and related disciplines. It focuses mainly on contemporary religious phenomena with special (but not exclusive) focus on Central and Eastern Europe. It should serve both as a source of information on te religious life in the region and as a supply of scholarly studies focused on contemporary lived religion at large. It is published semi-annually both in print and online (free access). Its goal is to bring thought-provoking contributions related not only to current established religions and religious movements new and old, but also to contemporary spirituality in its wider context, including the New Age milieu, Neopaganism and pop-cultural spirituality. The journal also covers the latest theoretical and methodological trends in Comparative Religion, Ritual Studies and other disciplines. The editorial board consists of scholars from most Czech Comparative Religion departments, as well as experts on the most important religious traditions across the globe.
Conspiracism and the Shadows of Transparency
Radek Chlup
DOI: https://doi.org/10.14712/25704893.2023.1
zveřejněno: 14. 08. 2023
Abstract
Following the approach of cultural studies, which views conspiracism as reflecting larger cultural and social anxieties and concerns, the paper argues that one of these anxieties is connected with the modern ideology of transparency. While at first sight a widely shared positive value, transparency can be shown to hide various tensions and paradoxes on closer inspection. This paper interprets conspiracy theories as imaginative attempts at capturing these tensions, at highlighting the inconspicuous opacity of the late modern transparent world and its institutions. Conspiracists are themselves entangled in the modern ideology of transparency, but at the same time, they knock against its boundaries, making explicit the unspoken premises of the entire system in all their paradoxicality. They draw attention to numerous inconsistencies and dark cracks in our late modern social and ideological system, symbolising them through various disturbing narratives that should not be taken literally but that are interesting precisely in that they offer an opportunity to reflect on the limitations of transparency
klíčová slova: conspiracism; conspiracy theory; transparency; opacity; occult cosmology

Conspiracism and the Shadows of Transparency is licensed under a Creative Commons Attribution 4.0 International License.
157 x 230 mm
vychází: 2 x ročně
cena tištěného čísla: 180 Kč
ISSN: 2533-7955
E-ISSN: 2570-4893
Ke stažení