AUC STUDIA TERRITORIALIA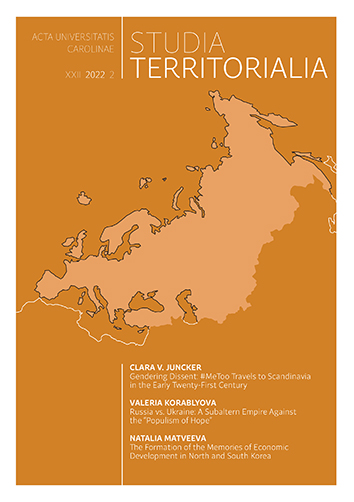 AUC Studia Territorialia je recenzovaný akademický časopis z oboru teritoriálních studií. Zaměřuje se na otázky politického, hospodářského, společenského a kulturního vývoje zemí Severní Ameriky, Evropy a postsovětské Eurasie ve 20. a 21. století. Vznikl v roce 2001; v současnosti vychází dvakrát ročně, a to v elektronické a tištěné podobě. Publikuje původní odborné studie, recenze, zprávy o knižních novinkách, konferencích a probíhajícím výzkumu, jakož i jiné kratší odborné texty. Časopis vydává Institut mezinárodních studií FSV UK.
Gendering Dissent: MeToo Travels to Scandinavia in the Early Twenty-First Century
Clara V. Juncker
DOI: https://doi.org/10.14712/23363231.2023.2
zveřejněno: 27. 04. 2023
Abstract
In May 2018, the #MeToo movement picked up wind when Harvey Weinstein was charged by the New York County District Attorney's Office with rape and sexual misconduct. But #MeToo was slow to take hold in Scandinavia, specifically in Denmark, where the consensus seemed to be that inequality and sexual harassment had long been overcome. Both the Women's March, which Ralph Young includes in Dissent: The History of an American Idea (2015), and the belated #MeToo movement in Denmark demonstrate the importance of American dissent, though the American Studies community has ignored national differences within #MeToo. Taken together, #MeToo protests in the United States set in motion a fourth wave of Americanization in Scandinavia, though the movement changed as it traveled across the Atlantic. Recent examples from Danish media and monographs suggest that the local #MeToo movement focused on the men involved and on class and the Danish Welfare State, which might topple if trade unionists did not take sexual violence seriously. Even the royal family would ultimately feel the sting of #MeToo and its relentless demand for equality.
klíčová slova: #MeToo; dissent; Americanization; masculinity; class; Denmark

Gendering Dissent: MeToo Travels to Scandinavia in the Early Twenty-First Century is licensed under a Creative Commons Attribution 4.0 International License.
148 x 210 mm
vychází: 2 x ročně
cena tištěného čísla: 180 Kč
ISSN: 1213-4449
E-ISSN: 2336-3231
Ke stažení