ACTA MEDICA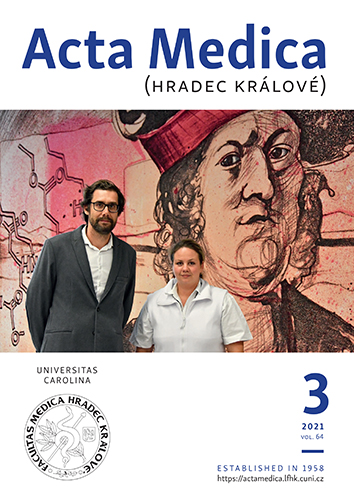 Acta Medica (Hradec Králové) je víceoborový vědecký recenzovaný časopis vycházející v angličtině. Acta Medica publikují review, původní články, stručná sdělení, případové studie a oznámení. Časopis byl založen v roce 1958 pod názvem Sborník vědeckých prací Lékařské fakulty Univerzity Karlovy v Hradci Králové. Je indexován v databázích Chemical Abstracts, CNKI, DOAJ, EBSCO, Hinari, Index Medicus, MEDLINE, Scopus a Ulrichsweb.
Oral Ibandronate Therapy in Three Patients with Osteogenesis Imperfecta
Štěpán Kutílek, Ivana Plášilová, Sylva Skálová, Milan Bayer, Erika Ondrušová
DOI: https://doi.org/10.14712/18059694.2021.32
zveřejněno: 11. 11. 2021
Abstract
Introduction: Treatment with orally administered ibandronate is an effective way to increase bone mineral density (BMD) and reduce fracture rate in post-menopausal women and in men with osteoporosis. There are only very few reports concerning ibandronate therapy in children and adolescents, and in patients with osteogenesis imperfecta (OI), as bisphosphonates are not registered for therapeutic use in pediatrics. Case Report: We present three patients with OI, where once-monthly oral ibandronate increased spinal BMD after two and four years, respectively, of therapy without any occurrence of new fractures and no adverse reactions. Somatic growth was not affected by the ibandronate treatment. Conclusion: Once-monthly oral ibandronate increased BMD and most probably improved bone quality in young patients with OI.
Klíčová slova: ibandronate; osteogenesis imperfecta; bone mineral density

Oral Ibandronate Therapy in Three Patients with Osteogenesis Imperfecta is licensed under a Creative Commons Attribution 4.0 International License.
210 x 297 mm
vychází: 4 x ročně
cena tištěného čísla: 150 Kč
ISSN: 1211-4286
E-ISSN: 1805-9694
Ke stažení