ACTA MEDICA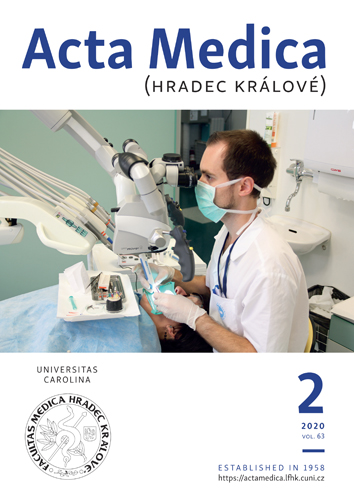 Acta Medica (Hradec Králové) je víceoborový vědecký recenzovaný časopis vycházející v angličtině. Acta Medica publikují review, původní články, stručná sdělení, případové studie a oznámení. Časopis byl založen v roce 1958 pod názvem Sborník vědeckých prací Lékařské fakulty Univerzity Karlovy v Hradci Králové. Je indexován v databázích Chemical Abstracts, CNKI, DOAJ, EBSCO, Hinari, Index Medicus, MEDLINE, Scopus a Ulrichsweb.
Candida Skull Base Osteomyelitis: a Case Report and Literature Review
Madhusudhan Krishnamoorthy, Nik Adilah Nik Othman, Nor Eyzawiah binti Hassan, Shahrul bin Hitam
DOI: https://doi.org/10.14712/18059694.2020.22
zveřejněno: 10. 08. 2020
Abstract
Skull base osteomyelitis (SBO) also commonly known as malignant otitis externa was first described by Meltzer and Kelemen in 1959. Prior to the advent of the antibiotic era, this disease carried a poor prognosis with significant morbidity. It often proved fatal with mortality rates as high as 50%. Commonly seen in the immunocompromised patients, diabetes mellitus is an important associated comorbidity in the pathophysiologic development of this disease. Treatment is instituted by medical therapy with surgery having a limited role. Surgical intervention has a limited role, for example, in fungal SBO. Such cases may require local debridement and intraoperative tissue biopsies for histopathologic confirmation. This is to demonstrate fungal invasion into the skull base, as well as to exclude other sinister differential diagnoses like squamous cell carcinoma of temporal bone. In this case report, we present a rare case of candida SBO and the literature review.
Klíčová slova: skull base; osteomyelitis; fungal; candida; otitis externa

Candida Skull Base Osteomyelitis: a Case Report and Literature Review is licensed under a Creative Commons Attribution 4.0 International License.
210 x 297 mm
vychází: 4 x ročně
cena tištěného čísla: 150 Kč
ISSN: 1211-4286
E-ISSN: 1805-9694
Ke stažení