REFLEXE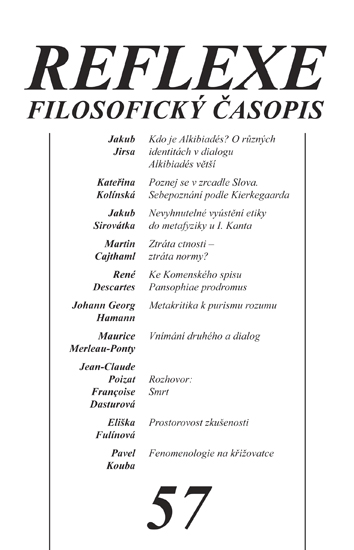 Reflexe a journal of philosophy, was founded in 1985 by Ladislav Hejdánek. The first three issues, originaly published in the underground (samizdat) form, were re-issued legally in 1990. The journal then continued as a quarterly and later, in its present form, as a bi-annual. The focus is on original studies in the areas of Philosophy and Theology. While translations of important philosophical essays are also published, preference is given to new publications. Each issue includes reviews of recent philosophical literature from the Czech Republic and abroad.
Nevyhnutelné vyústění etiky do metafyziky u I. Kanta
[The Inevitable Leading of Ethics to Metaphysics in I. Kant]
Jakub Sirovátka
DOI: https://doi.org/10.14712/25337637.2020.3
announced: 25. 02. 2020
abstract
The article distinguishes two possible answers presented by the Alcibiades I regarding the question "Who am I?". The first answer is carried out in terms of our practical identity, as it is discussed in the first part of the dialogue; the second answer concerns our deeper, constitutive self, uncovered in the second part of the dialogue. Whereas other interpretations look for different senses of the "self" in the second part of the dialogue, my interpretation shows that distinct concepts of the "self" are to be found across the entire dialogue. In conclusion I address the relation between these two concepts of the self in order to show in what sense the constitutive "self" serves as a normative ground for our practical identity.

Nevyhnutelné vyústění etiky do metafyziky u I. Kanta is licensed under a Creative Commons Attribution 4.0 International License.
202 x 130 mm
published: 2 x per year
print price: 128 czk
ISSN: 0862-6901
E-ISSN: 2533-7637
Download