IBERO-AMERICANA PRAGENSIA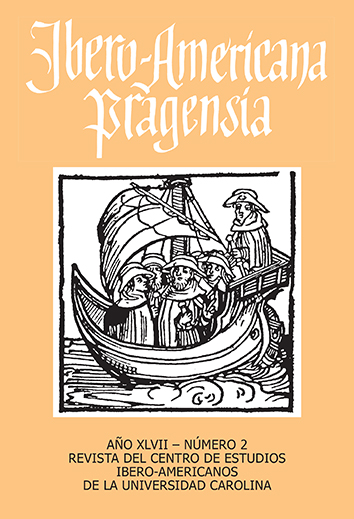 The Ibero-Americana Pragensia is an academic journal of the Centre for Latin-American Studies, CU Faculty of Philosophy and Arts, published since 1967 by the Charles University publishing house (now Karolinum Press). It was the first academic periodical in central and eastern Europe published in Spanish. It presents mainly essays in history, literary science and linguistics and secondly also in ethnology, arts history philosophy and other humanities fields. The section titled Materials presents sources on the relations of central Europe with Spanish and Portuguese speaking regions.
Bibliotecas populares en canarias: la Biblioteca de El obrero
[Libraries in Canary: The Library of El Obrero]
Manuel de Paz Sanchez, Valeria Aguiar Bobet, Ángel Dámaso Luis León
DOI: https://doi.org/10.14712/24647063.2020.2
announced: 05. 03. 2021
abstract
This work includes a large sample of books from the popular library of the Canary Workers Association (Santa Cruz de Tenerife, Canary Islands). It is a reconstructed library based on the references published in the journalistic body of the Association, that is, the newspaper El Obrero. Through this work we approach literary and cultural hobbies, in general, of a social collective influenced by the anarchist movement of the early twentieth century, which was important in Spain and the Canary Islands, as well as in Spanish America. The inventory allows to identify various literary works of French and Russian novels, mainly, but also some pedagogical and esoteric treatises, such as studies on Freemasonry, spiritualism, etc. We understand that this type of inventory can be useful for the study of various ideological, political and cultural aspects of the Canary Islands Workers'Association, which was the first workers' entity of blind importance that existed in the Archipelago.
keywords: Canaries; cultural history; popular and working libraries
references (8)
1. BESTARD, Joan, Parentesco y modernidad, Barcelona: Paidós, 1998.
2. DARNTON, Robert, Edición y subversión. Literatura clandestina en el Antiguo Régimen, Madrid: Turner - Fondo de Cultura Económica, 2003.
3. GALVÁN FERNÁNDEZ, Francisco, Burgueses y obreros en Canarias: (del S. XIX al XX), La Laguna: Secretariado de Publicaciones, 1986.
4. GALVÁN FERNÁNDEZ, Francisco - MARTÍNEZ DE AZAGRA, Luis, Trabajos socioeconómicos: Canarias a finales del siglo XIX, Santa Cruz de Tenerife: Benchomo, 1994.
5. GONZÁLEZ ANTÓN, Javier, "El libro antiguo en Canarias", in: Pedro Manuel Cátedra García y María Luisa López-Vidriero Abello, Separata de: El libro antiguo español: actas del Segundo Coloquio Internacional (Madrid), Salamanca: Universidad de Salamanca, 1992, pp. 241-246. "Patrimonio bibliográfico" [on-line]. Patrimonio Bibliográfico Español, [consultado 10 de agosto de 2019]. Accesible de: http://catalogos.mecd.es/CCPB/cgi-ccpb/abnetopac/O12444/IDc8f6f80d ?ACC=101).
6. PAZ SÁNCHEZ, Manuel de, La biblioteca olvidada: (los libros del Convento Franciscano de Garachico), Santa Cruz de Tenerife: Idea, 2010.
7. PAZ SÁNCHEZ, Manuel de, "El Jardín de la Virtud (La masonería como una disidencia cristiana del XIX)", Anuario de Estudios Atlánticos 53, 2007, pp. 299-336.
8. ROMERO TALLAFIGO, Manuel, De libros, archivos y bibliotecas: venturas y desventuras de la escritura, Las Palmas de Gran Canaria: UNED, 2008.

Bibliotecas populares en canarias: la Biblioteca de El obrero is licensed under a Creative Commons Attribution 4.0 International License.
157 x 230 mm
published: 2 x per year
print price: 160 czk
ISSN: 0536-2520
E-ISSN: 2464-7063
Download