AUC THEOLOGICA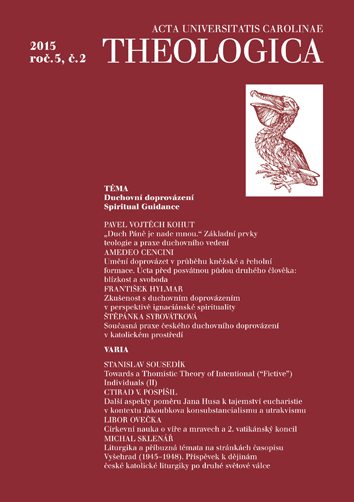 AUC Theologica is a peer-reviewed journal for theology published twice a year. As we publish original papers in English, German, French, and Italian, our mission is to serve as a platform both for Czech researchers, who can present their research results in these languages, and for international contributors, who are invited to enter the academic theological discussion in the heart of Europe.
The journal focuses on a wide range of theological disciplines, such as systematic theology, biblical studies, patristic studies, pastoral and spiritual theology, religious education, church history, etc. Within these fields, the journal seeks to reflect the current theological questions and problems, which often requires interdisciplinary approaches. Supporting the intersection of various theological disciplines, we thus also welcome theological papers touching other academic fields including philosophy, sociology, literary studies, and science.
Each issue consists of two sections. The thematic section presents papers of the same focus. The section called 'Varia' invites papers dealing with various theological themes from the perspective of all Christian traditions. Our current and past issues are approachable for free on this website in the form of Open Access.
Další aspekty poměru Jana Husa k tajemství eucharistie v kontextu Jakoubkova konsubstancialismu a utrakvismu
[Other Aspects of John Hus's Attitude to the Mystery of Eucharist in the Context of Jacob's Consubstantialism and Utraquism]
Ctirad Václav Pospíšil
DOI: https://doi.org/10.14712/23363398.2015.78
announced: 02. 12. 2015
abstract
In this study devoted to other aspects of Hus's attitude to the mystery of Eucharist, the author extends his results presented in the previous article, which was mainly focused on the orthodoxy of the Bethlehem preacher's teaching. The respect to the truth demands to discuss also Hus's non-conformist preaching on the level of "the Service of the Word". There can be found some disputable points, the most controversial of which is the claim that grave sinners should be regarded as heretics. After that, the author discusses the consubstantialism of Jacob of Mies, and, on the basis of the observations, he concludes that he cannot univocally condemn Jacob's attitudes as heretical. In the third point, he focuses on the Hus's role in the so called Wilsnack Affair. In the concluding part of the study, the dramatic attitude of the Bethlehem preacher to the offering Communion under both kinds to the laity is presented.
keywords: Catholic Theology; John Hus; Jacob of Mies; Eucharist; Transubstantiation; Consubstantialism; Remanentism; Czech Reform Movement; Husitism

Další aspekty poměru Jana Husa k tajemství eucharistie v kontextu Jakoubkova konsubstancialismu a utrakvismu is licensed under a Creative Commons Attribution 4.0 International License.
148 x 210 mm
published: 2 x per year
print price: 100 czk
ISSN: 1804-5588
E-ISSN: 2336-3398
Download