AUC PHILOLOGICA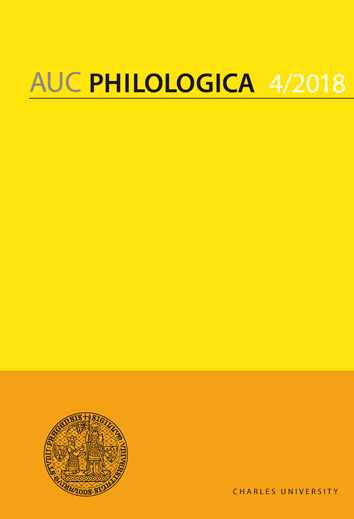 AUC Philologica (Acta Universitatis Carolinae Philologica) is an academic journal published by Charles University. It publishes scholarly articles in a large number of disciplines (English, German, Greek and Latin, Oriental, Romance and Slavonic studies, as well as in phonetics and translation studies), both on linguistic and on literary and cultural topics. Apart from articles it publishes reviews of new academic books or special issues of academic journals.
The journal is indexed in CEEOL, DOAJ, EBSCO, and ERIH PLUS.
Het "zien" als basis voor het wezen van het fenomeen van het dubbelkunstenaarschap. Filosofen over "zien" in taal en andere kunsten
["Seeing" as the essentiality of the phenomenon of multi-disciplinary artists: philosophers on "seeing" in language and the other arts]
Albert Gielen
DOI: https://doi.org/10.14712/24646830.2018.54
published online: 22. 03. 2019
abstract
The common multi-disciplinary approach to artists in Dutch literature makes it worth investigating the relationship between visual art and literature, these being two different disciplines. The position of the author or the characters between the two disciplines is difficult to determine, because each discipline has its own characteristics. To understand the phenomenon of a multi-disciplinary artist, I attempt, on the basis of Gotthold Ephraim Lessing, Martin Heidegger and Maurice Merleau-Ponty, to understand the relationship between the visual arts and literature, analyzing the two disciplines in relationship to each other. According to Maurice Merleau-Ponty, 'Seeing' is a phenomenon which the disciplines have in common. In the following analysis, Merleau-Ponty's concept of 'Seeing' is confronted with an attempt to determine whether it is usable in relationship to multi-disciplinary artists.
keywords: visual arts; perception; literature; methodology; philosophy; multidisciplinary artist; seeing
references (7)
1. van den Braembussche, Antoon A. (2000). Denken over kunst. Een inleiding in de kunstfilosofie. Bussum: Coutinho.
2. Dewey, John (1934). Art as Experience. New York: Minton, Balch and Co.
3. Heidegger, Martin (1996). De oorsprong van het kunstwerk, Amsterdam-Meppel: Boom Uitgevers.
4. Lessing, Gotthold Ephraim (2009). Laocoön. Over de grenzen van schilderkunst en poëzie. Groningen: Historische Uitgeverij.
5. Merleau-Ponty, Maurice (2004). "Cézanne's Doubt". In: Basic Writings. London: Psychology Press, p. 272–290.
6. Merleau-Ponty, Maurice (2009). Fenomenologie van de waarneming. Amsterdam: Boom Uitgevers.
7. Merleau-Ponty, Maurice (2012). Oog en geest. Amsterdam: Boom Uitgevers.

Het "zien" als basis voor het wezen van het fenomeen van het dubbelkunstenaarschap. Filosofen over "zien" in taal en andere kunsten is licensed under a Creative Commons Attribution 4.0 International License.

periodicity: 4 x per year
print price: 150 czk
ISSN: 0567-8269
E-ISSN: 2464-6830
Download