AUC PHILOLOGICA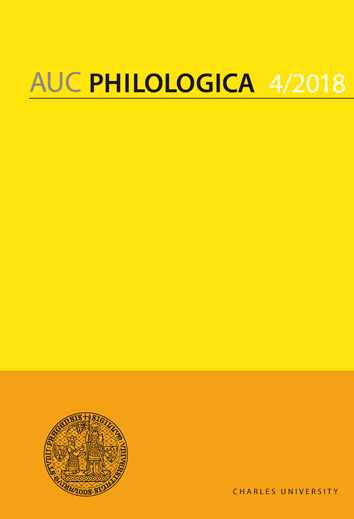 AUC Philologica (Acta Universitatis Carolinae Philologica) is an academic journal published by Charles University. It publishes scholarly articles in a large number of disciplines (English, German, Greek and Latin, Oriental, Romance and Slavonic studies, as well as in phonetics and translation studies), both on linguistic and on literary and cultural topics. Apart from articles it publishes reviews of new academic books or special issues of academic journals.
The journal is indexed in CEEOL, DOAJ, EBSCO, and ERIH PLUS.
De grenzen van receptie. De vele wegen van de middelnederlandse literatuur naar Polen
[The boundaries of reception: the many paths of medieval Dutch literature to Poland]
Małgorzata Dowlaszewicz
DOI: https://doi.org/10.14712/24646830.2018.53
published online: 22. 03. 2019
abstract
Medieval Dutch literature has not been translated into Polish all that often. There are consequently not many direct receptions to be analysed in the traditional methodology of reception theory. More detailed research reveals, however, additional cultural residues of Middle Dutch literature in Modern Poland (after 1918). This article outlines the possibility of a broader approach in which reception of literature is more comprehensive and draws from the methodological background of biblical studies.
keywords: reception theory; biblical studies; Middle Dutch literature; Polish reception
references (25)
1. Aguiar, Daniella & Joao Queiroz (2009). Towards a Model of Intersemiotic Translation. The International Journal of the Arts in Society 4, pp. 203–210. CrossRef
2. Breed, brennan w. (2014). Nomadic Text: A Theory of Biblical Reception History. Bloomington Ind.: Indiana University Press.
3. Dąbrówka, Andrzej (2008). The Middle Ages after the Middle Ages. Medievalism in the Study of European Drama and Theatre History. In: K. C. (ed.), Színházvilág – Világszínház (pp. 23–37). Budapest: Ráció Kiadó.
4. Geest, Dirk de (1997). Knuvelder voorbij – voorbij Knuvelder? In: H. E. Bekkering, Veelstemmig akkoord. Naar een nieuwe literatuurgeschiedenis (pp. 17–26). Den Haag: Sdu.
5. Gorp, Henk van (1985). De utopie van een omvattende literatuurgeschiedschrijving. Of hoe het zou moeten kunnen en toch niet echt kan… Spiegel der Letteren, 27, pp. 245–262. CrossRef
6. Graziosi, Barbara (2015). On Seeing The Poet: Arabic, Italian and Byzantine portraits of Homer. Scandinavian Journal of Byzantine and Modern Greek Studies 1, pp. 25–48.
7. Guiette, Robert (1927). La légende de la Sacristine. Paris: Champion.
8. Helsztyński, Stanisław (1933). Każdy (Everyman): średniowieczny moralitet angielski. Warszawa.
9. Iwaszkiewicz, Jarosław (1984). Kwidam. In: Jarosław Iwaszkiewicz, Dramaty. Warszawa: Czytelnik, pp. 5–81.
10. Jakobson, Roman (2004). On linguistic aspects of translation. In: L. Venuti, The translation studies reader (pp. 113–118). London, New York: Routledge.
11. Jauss, Hans Robert & Elizabeth Benzinger (1970). Literary History as a Challenge to Literary Theory. New Literary History, 2 (2), pp. 7–37. CrossRef
12. Jongen, Ludo & Małgorzata Dowlaszewicz (2012). Jacob van Maerlant: Vier viervoeters/Cztery czworonogi. Lublin: KUL.
13. Kalmthout, Ton Van, Orsolya Réthelyi & Remco Sleiderink (2013). Beatrijs de wereld in. Vertalingen en bewerkingen van het Middelnederlandse verhaal. Gent: Academia Press. CrossRef
14. Kasprowicz, Jan (1907). Siostra Beatryks: w trzech aktach. Lwów, Warszawa: nakł. Towarzystwa Wydawniczego E. Wende i Spółka.
15. Luty, Jerzy (2011). Estetyka ewolucyjna: sztuka jako adaptacja w ujęciu międzykulturowym. Estetyka i Krytyka 2, pp. 101–114.
16. Maeterlinck, Maurice & Gregorio Martinez Sierra (1900). Aglavena y Seliseta; Ariana y Barba-Azul; Sor Beatriz. Madrid: Renacimiento.
17. Maeterlinck, Baurice & .-B. (1909). Schwester Beatrix: Drama. Berlin: Bloch.
18. Mierlo, Jozef van, s. j. (1951). Elckerlijc. Utrecht: Stichting De Roos.
19. Oczko, Piotr & Włodzimierz Szturc (1998). Cudowna historia Maryjki z Nijmegen, która przez siedem lat miała do czynienia z diabłem. Kraków: Script.
20. Réthelyi, Orsolya (2015). De koopman en de non. Max Reinhardt en de receptie van Middelnederlandse literatuur in Hongarije. Praagse Perspectieven(10), pp. 9–34.
21. Roberts, Jonathan (2011). Introduction. In: Michael Lieb – Emma Mason – Jonathan Roberts, The Oxford Handbook of the Reception History of the Bible (pp. 1–8). Oxford: Oxford University Press.
22. Ruysbrock, Jan van & Maria Lew-Dylewski (2000–2006). Dzieła. Kraków: Wydawnictwo Karmelitów Bosych.
23. Ruysbroeck, Jan van & Walerian Przewłocki (1874). Rusbrock przedziwny. Lwów: Drukarnia Ludowa (Seyfarth & Czajkowski).
24. Ruysbroeck, Jan van & P. Słupek (1985). Zwierciadło wiecznego zbawienia (fragment). Życie Katolickie 4 (11).
25. Ruysbroeck, Jan & Piotr R. Sulikowski (2000). Ozdoba duchowego wesela. Kraków: Miesięcznik Znak.

De grenzen van receptie. De vele wegen van de middelnederlandse literatuur naar Polen is licensed under a Creative Commons Attribution 4.0 International License.

periodicity: 4 x per year
print price: 150 czk
ISSN: 0567-8269
E-ISSN: 2464-6830
Download