AUC KINANTHROPOLOGICA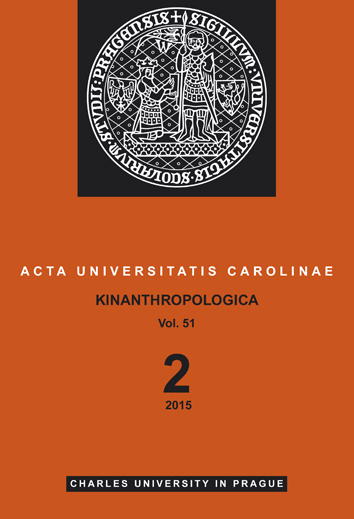 Acta Universitatis Carolinae Kinanthropologica (AUC Kinanthropologica) is an international peer reviewed journal for the publication of research outcomes in the humanities, the social sciences and the natural sciences, as applied to kinathropology. It is a multidisciplinary journal accepting only original unpublished articles in English in the various sub-disciplines and related fields of kinanthropology, such as Anthropology, Anthropomotorics, Sports Pedagogy, Sociology of Sport, Philosophy of Sport, History of Sport, Physiology of Sport And Exercise, Physical Education, Applied Physical Education, Physiotherapy, Human Biomechanics, Psychology of Sport, Sports Training and Coaching, Sport Management, etc. The journal also welcomes interdisciplinary articles. The journal also includes reports of relevant activities and reviews of relevant publications.
The journal is abstracted and indexed by CNKI, DOAJ, EBSCO, ERIH PLUS, SPOLIT, SPORTDiscus, and Ulrichsweb.
Football, alcohol and gambling: an unholy trinity?
Carwyn Jones
DOI: https://doi.org/10.14712/23366052.2015.28
announced: 16. 02. 2016
abstract
In this paper I argue that football plays a questionable role in promoting two potentially problematic activities, namely drinking alcohol and gambling. Gambling and alcohol companies sponsor clubs and competitions and also pay to advertise their products at the stadia and during television coverage. Consequently millions of fans, including children, are exposed to the marketing of these restricted products. The latter are exposed despite regulations that prohibit such advertising and promotion in other contexts. The promotion of these activities to children and to adults increases levels of consumption which in turn increases the number of problem drinkers and gamblers in society. High-profile footballers play a further role in normalising drinking and gambling. They are role models whose actions influence others. Their excessive drinking and gambling activities provide poor examples for football fans, young and old.
keywords: alcohol; gambling; football; role models; promotion
references (25)
1. Anderson, P., de Bruijn, A., Angus, K., Gordon, R. & Hastings, G. (2009). Impact of alcohol advertising and media exposure on adolescent alcohol use: A systematic review of longitudinal studies. Alcohol and Alcoholism, 44(3), 229–243. CrossRef PubMed
2. Aristotle (1980). Nichomachean Ethics. (W. D. Ross, trans.) (updated J. O. Urmson and J. L. Ackrill) Oxford: Oxford University Press.
3. Babor, T., Caetano, R., Casswell, S., Edwards, G., Giesbrecht, N., Graham, K., Grube, J., Hill, L., Holder, H., Homel, R., Livingston, M., Österberg, E., Rehm, J., Room, R. & Rossow, I. (2010). Alcohol: No Ordinary Commodity, research and public policy. 2nd ed. Oxford: Oxford University Press. CrossRef
4. Blum, L. A. (1994). Moral Perception and Particularity. Cambridge: Cambridge University Press. CrossRef
5. Bourdieu, P. (1990). The Logic of Practice. Cambridge: Polity Press.
6. Dixon, K. (2012). Learning the game: Football fandom culture and the origins of practice. International Review for the Sociology of Sport, 48(3), 334–348. CrossRef
7. Ellickson, P. L., Collins, R. L., Hambarsoomians, K. & McCaffrey, D. F. (2005). Does alcohol advertising promote adolescent drinking? Results from a longitudinal assessment. Addiction, 100(8), 235–246. CrossRef PubMed
8. Flanagan, O. (1991). Varieties of Moral Personality: Ethics and Psychological Realism. London: Harvard University Press.
9. Gornall, J. (2014). World Cup 2014: festival of football or alcohol? British Medical Journal, 348, 15–17. CrossRef PubMed
10. Graham, A. & Adams, J. (2014). Alcohol marketing in televised English professional football: A frequency analysis. Alcohol and Alcoholism, 49(3), 343–348. CrossRef PubMed
11. Jones, C. (2014). Alcoholism and recovery: A case study of a former professional footballer. International Review for the Sociology of Sport, 49(3/4), 485–505. CrossRef
12. Jones, C. (2005). Character, Virtue and Physical Education. European Physical Education Review, 11(2), 139–151. CrossRef
13. Jones, C. (2008). Teaching Virtue through Physical Education. Sport, Education and Society, 13(3), 337–349. CrossRef
14. Jones, C. (2011). Drunken Role Models: rescuing our sporting exemplars. Sport, Ethics and Philosophy, 5(4), 414–432. CrossRef
15. Jones, C. & McNamee, M. J. (2000). Moral Reasoning, Moral Action, and the Moral Atmosphere of Sport. Sport Education and Society, 5(2), 131–144. CrossRef
16. Mill, J. S. (1985). On Liberty. London: Penguin.
17. Morse, S. J. (2011). Addiction and Criminal Responsibility. In: J. Poland & G. Graham (Eds.) Addiction and Responsibility. Cambridge: MA. The MIT Press, pp. 159–199. CrossRef
18. Mumford, S. (2012). Watching Sport: Aesthetics, ethics and emotion. London: Routledge.
19. Nutt, D. J., King, L. A. & Phillips, L. D. (2010). Drug harms in the UK: a multicriteria decision analysis. Lancet, 376, 1558–1565. CrossRef
20. Orford, J. (2010). An Unsafe Bet? The dangerous rise of gambling and the debate we should be having. Chichester: Wiley-Blackwell. CrossRef
21. Pincoffs, E. L. (1986). Quandaries and Virtues, Against Reductivism in Ethics. Kansas: Kansas University Press.
22. Ross, D. (2013). The Picoeconomics of Gambling Addiction and Supporting Neural Mechanisms. In: N. Levy (Ed.) Addiction and Self-control. Oxford: Oxford University Press. CrossRef
23. Sandel, M. (1984). The procedural republic and the unencumbered self. Political Theory, 12(1), 81–96. CrossRef
24. Sigman, A. (2011). Alcohol Nation: How to protect our children from today's drinking culture. London: Piatkus.
25. Smith, L. A. & Foxcroft, D. R. (2009). The effect of alcohol advertising, marketing and portrayal on drinking behaviour in young people: systematic review of prospective cohort studies. BMC Public Health, 9(51), 1–11. CrossRef PubMed
157 x 230 mm
published: 2 x per year
print price: 190 czk
ISSN: 1212-1428
E-ISSN: 2336-6052
Download