AUC IURIDICA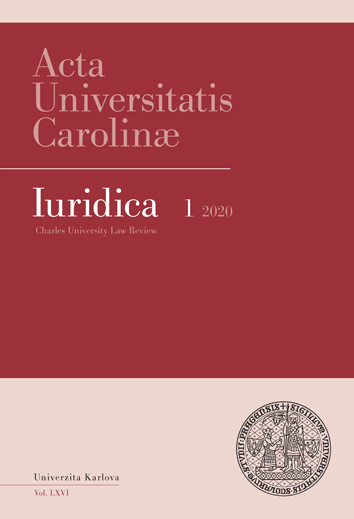 Acta Universitatis Carolinae Iuridica (AUC Iuridica) is a legal journal published since 1955, which presents longer essays as well as short articles on topics relevant for legal theory and international, European and Czech law. It also publishes works concerning current legislative problems.
Although intended primarily for domestic audience, AUC Iuridica is useful also for foreign experts, who can take advantage of summaries in foreign languages (English, German and French) and key words, which are systematically added to the main articles and essays.
The published articles are subject to peer reviews. If necessary, reviewed texts are sent back to the author for revision.
AUC Iuridica accepts contributions from any contributor on any current legal topic.
The journal is registered in the Czech National Bibliography (kept by the National Library of the Czech Republic) and in the Index to Foreign Legal Periodicals (kept by the American Association of Law Libraries).
The journal is archived in Portico.
Průkaz energetické náročnosti budov jako nástroj energetických úspor
[Energy Performance Certificate as an Instrument of Energy Savings]
Leoš Kudlík
DOI: https://doi.org/10.14712/23366478.2020.2
announced: 06. 03. 2020
abstract
Energy performance certificate is one of the main legal instruments of energy efficiency policy with the objective to reduce energy consumption in buildings in order to meet requirements for the energy performance of buildings. Energy performance certificate shall include the energy performance of a building as well as recommendations for the cost-optimal or costeffective enhancements of the energy performance of a building or building unit. The rating scheme of energy performance certificate also plays a significant role within programmes such as New Green Savings.
keywords: energy performance certificate; energy performance of building; energy savings
references (5)
1. BERNARDINOVÁ, A. - MAREŠ, M. Zpracování průkazu energetické náročnosti budovy: praktická příručka pro všechny majitele rodinných a bytových domů, bytů a pro realitní kanceláře. Praha: Linde Praha, 2013.
2. DAHLSVEEN, T. - PETRÁŠ, D. HIRŠ, J. Energetický audit budov. Bratislava: Jaga group, 2003.
3. DAMOHORSKÝ, M. Právo životního prostředí. 3. vyd. Praha: C.H. Beck, 2010.
4. KABELE, K. Energetická náročnost budov v souvislostech s platnou legislativou ČR. Praha: ABF - nakladatelství ARCH, 2008.
5. KURNITSKI, J. Cost optimal and nearly zero-energy buildings (nzeb). New York, NY: Springer Berlin Heidelberg, 2013. CrossRef

Průkaz energetické náročnosti budov jako nástroj energetických úspor is licensed under a Creative Commons Attribution 4.0 International License.
230 x 157 mm
published: 4 x per year
print price: 65 czk
ISSN: 0323-0619
E-ISSN: 2336-6478
Download