AUC IURIDICA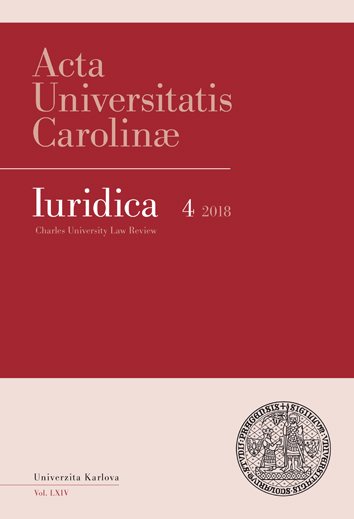 Acta Universitatis Carolinae Iuridica (AUC Iuridica) is a legal journal published since 1955, which presents longer essays as well as short articles on topics relevant for legal theory and international, European and Czech law. It also publishes works concerning current legislative problems.
Although intended primarily for domestic audience, AUC Iuridica is useful also for foreign experts, who can take advantage of summaries in foreign languages (English, German and French) and key words, which are systematically added to the main articles and essays.
The published articles are subject to peer reviews. If necessary, reviewed texts are sent back to the author for revision.
AUC Iuridica accepts contributions from any contributor on any current legal topic.
The journal is registered in the Czech National Bibliography (kept by the National Library of the Czech Republic) and in the Index to Foreign Legal Periodicals (kept by the American Association of Law Libraries).
The journal is archived in Portico.
K zásahům proti škodám způsobených kůrovcem v chráněných přírodních územích podle českého a evropského práva
[Interventions against Damage Caused by Bark Beetle in the Special Protected Areas in the Current Czech and European Legal Regulation]
Vojtěch Stejskal
DOI: https://doi.org/10.14712/23366478.2018.45
announced: 04. 01. 2019
abstract
This article focuses, also in the light of the current case law of the Court of Justice of the European Union on the legal aspects of interference with damage caused by bark beetle in special protected areas under Czech and European Union law. It notes in particular the relations of the Forest Act No. 289/1995 Coll. and Act No. 114/1992 Coll., on Nature and Landscape Protection. Key attention is paid to the current jurisprudence of the Court of Justice of the EU on interventions against bark beetle in Natura 2000 areas.
keywords: environment; forest; owner; damage; forest protection; bark beetle; special protected areas; Natura 2000 network; Court of Justice of the EU
references (3)
1. DROBNÍK, J. – DVOŘÁK, P.: Lesní zákon. Komentář. Praha: Wolters Kluwer ČR, 2010.
2. STEJSKAL, V.: Předběžné opatření Soudního dvora EU v případu kácení v oblasti Bělověžského pralesa (Komise vs. Polsko – Věc C-441/17 R, usnesení z 20. 11. 2017). Časopis České právo životního prostředí. 2017, 3 (45).
3. VOMÁČKA, V.: Pomocná ruka unijního práva: Těžba v Bělověžském pralese, postup podle čl. 259 SFEU, pojem "veřejná instituce" a přístup k informacím o životním prostředí. Časopis České právo životního prostředí. 2017, 2 (44).

K zásahům proti škodám způsobených kůrovcem v chráněných přírodních územích podle českého a evropského práva is licensed under a Creative Commons Attribution 4.0 International License.
230 x 157 mm
published: 4 x per year
print price: 65 czk
ISSN: 0323-0619
E-ISSN: 2336-6478
Download