AUC IURIDICA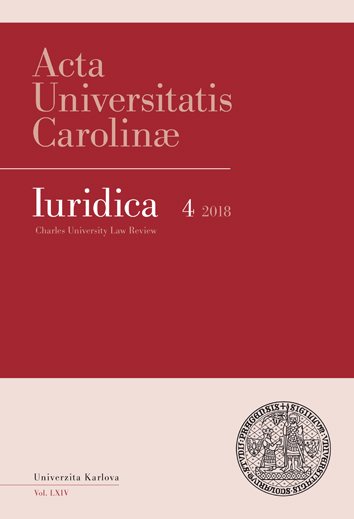 Acta Universitatis Carolinae Iuridica (AUC Iuridica) is a legal journal published since 1955, which presents longer essays as well as short articles on topics relevant for legal theory and international, European and Czech law. It also publishes works concerning current legislative problems.
Although intended primarily for domestic audience, AUC Iuridica is useful also for foreign experts, who can take advantage of summaries in foreign languages (English, German and French) and key words, which are systematically added to the main articles and essays.
The published articles are subject to peer reviews. If necessary, reviewed texts are sent back to the author for revision.
AUC Iuridica accepts contributions from any contributor on any current legal topic.
The journal is registered in the Czech National Bibliography (kept by the National Library of the Czech Republic) and in the Index to Foreign Legal Periodicals (kept by the American Association of Law Libraries).
The journal is archived in Portico.
Reflexe Listiny základních práv EU při tvorbě vnitrostátní implementační legislativy v České republice
[The Charter of Fundamental Rights of the EU in the Process of Czech Legislation Drafting]
Bohumil Peterka
DOI: https://doi.org/10.14712/23366478.2018.30
announced: 04. 01. 2019
abstract
The Charter of Fundamental Rights of the EU constitutes a principal instrument within contemporary European Union legal order. Thus, in the process of national legislation drafting it deserves substantial attention. The article outlines why, in a specific context of Czech rules on good legislation, the Charter shall be perceived as a focal point for a legislative drafter. The system of national EU law implementation process is built on both material and formal bases. The uncertainty regarding the scope of application of the Charter makes following the aforementioned system rather difficult with respect to determining whether the Charter should be taken into account or not. Following the line of the Court of Justice of the EU cases Fransson, Siragusa and Ispas, the author presents a general test which aims to help the decision.
keywords: The Court of Justice of the EU; the Charter of Fundamental Rights of the EU; legislation; legislative drafting
references (9)
1. FONTANELLI, F.: The Implementation of European Union Law by Member States Under Article 5 1(1) of the Charter of Fundamental Rights. 20 Colum. J. Eur. L. 193 (2014).
2. KONSTADINIDES, T.: Dealing with Parallel Universes: Antinomies of Sovereignty and the Protection of National Identity in European Judicial Discourse. Yearbook of European Law 2015, Vol. 34 (1), s. 127-169. CrossRef
3. MOL, M. De.: Articolul 51 din Carta drepturilor fundamentale a Uniunii Europene in procesele legislative ale statetor membre, 2016 R.R.D.E. 111 (2016).
4. POSPÍŠIL, I.: Sledování souladu legislativy s ústavním pořádkem při tvorbě práva. Správní právo 2017, roč. 50, č. 3, s. 2-16.
5. Monografie:
6. FOLLESDAL, A. - WESSEL, R. - WOUTERS, J.: Multilevel Regulation and the EU - The Interplay between Global, European and National Normative Processes. Nijhoff: Brill, 2008.
7. KRÁL, R.: Směrnice EU z pohledu jejich transpozice a vnitrostátních účinků. Praha: C.H. Beck, 2014.
8. PEERS, S., et al.: The EU Charter of Fundamental Rights: A Commentary. München: Beck, 2013.
9. WHELANOVÁ, M.: Evropská dimenze tvorby práva. In: Kol. aut.: Legislativní proces: (teorie a praxe). Praha: Tiskárna Ministerstva vnitra, 2011.

Reflexe Listiny základních práv EU při tvorbě vnitrostátní implementační legislativy v České republice is licensed under a Creative Commons Attribution 4.0 International License.
230 x 157 mm
published: 4 x per year
print price: 65 czk
ISSN: 0323-0619
E-ISSN: 2336-6478
Download