AUC IURIDICA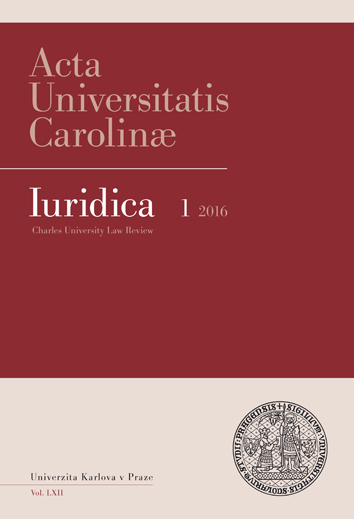 Acta Universitatis Carolinae Iuridica (AUC Iuridica) is a legal journal published since 1955, which presents longer essays as well as short articles on topics relevant for legal theory and international, European and Czech law. It also publishes works concerning current legislative problems.
Although intended primarily for domestic audience, AUC Iuridica is useful also for foreign experts, who can take advantage of summaries in foreign languages (English, German and French) and key words, which are systematically added to the main articles and essays.
The published articles are subject to peer reviews. If necessary, reviewed texts are sent back to the author for revision.
AUC Iuridica accepts contributions from any contributor on any current legal topic.
The journal is registered in the Czech National Bibliography (kept by the National Library of the Czech Republic) and in the Index to Foreign Legal Periodicals (kept by the American Association of Law Libraries).
The journal is archived in Portico.
Právne postavenie národnostných menšín v Maďarsku po roku 1989
[Legal Status of National Minorities in Hungary after 1989]
Ivan Halász
announced: 23. 05. 2016
abstract
The paper deals with the development of Hungarian legislation after 1989. So far, the parliament has adopted two comprehensive acts regarding minorities – the first one in 1993, the other in 2011. The conception and basic features of both acts are similar. And the structure of minority (nowadays national) self-governments has not changed radically either. After the new Basic Act of the State had been adopted, significant changes came about in the parliament as the new act on elections of 2011 made it easier for staterecognised minorities to enter the parliament. If they do not manage to do so in this regime, they still have an opportunity to delegate their own speakers to the legislative body. What also changed is the terminology; as of 2011 the main legal rules have again been using the traditional term 'nationalities' in place of the previously used 'national and ethnic minorities'. The new regulation is also more open to foreigners – immigrants from the EU.
keywords: minorities; nationalities; self-governments; constitution; elections; parliament menšiny; národnosti; samospráva; ústava; volby; parlament

Právne postavenie národnostných menšín v Maďarsku po roku 1989 is licensed under a Creative Commons Attribution 4.0 International License.
230 x 157 mm
published: 4 x per year
print price: 65 czk
ISSN: 0323-0619
E-ISSN: 2336-6478
Download