AUC IURIDICA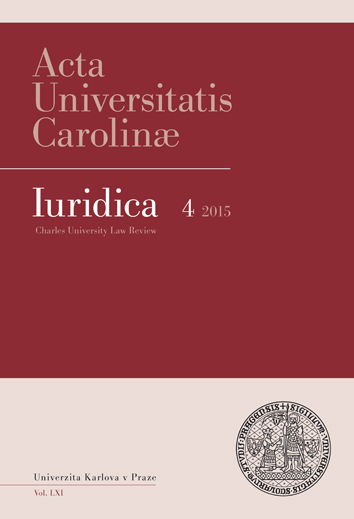 Acta Universitatis Carolinae Iuridica (AUC Iuridica) is a legal journal published since 1955, which presents longer essays as well as short articles on topics relevant for legal theory and international, European and Czech law. It also publishes works concerning current legislative problems.
Although intended primarily for domestic audience, AUC Iuridica is useful also for foreign experts, who can take advantage of summaries in foreign languages (English, German and French) and key words, which are systematically added to the main articles and essays.
The published articles are subject to peer reviews. If necessary, reviewed texts are sent back to the author for revision.
AUC Iuridica accepts contributions from any contributor on any current legal topic.
The journal is registered in the Czech National Bibliography (kept by the National Library of the Czech Republic) and in the Index to Foreign Legal Periodicals (kept by the American Association of Law Libraries).
The journal is archived in Portico.
–––
We are pleased to inform you that the journal Acta Universitatis Carolinae Iuridica was the first journal of the Faculty of Law of Charles University to be included in the prestigious international database SCOPUS. This Elsevier database is the largest abstract and citation database of peer-reviewed literature in the world. The editors of the journal expect from the inclusion in the elite SCOPUS database not only an increase in the readership of the journal, but also an increase in interest in the publication of papers by both Czech and foreign authors.
Možnosti podpory Ukrajiny a krajanům na Ukrajině ze strany České republiky jako člena EU
[Ways of Providing Support to Compatriots in Ukraine by the Czech Republic as a Member State of the EU]
Monika Forejtová
published online: 06. 01. 2016
abstract
Political and economic support for Ukraine and its citizens from the European Union and especially from the Czech Republic and a number of its non-governmental organisations is a precondition of a good neighbour policy, solidarity and European concepts of peace and stability on the European continent. Support for Ukrainian citizens is also using those citizens of Ukraine who have their ethnic roots in the Czech Republic and who have lived mainly in western Ukraine, e.g. in Melitopol, Zaporozie, Lvov or Uzhgorod. According to estimates of the Ministry of Foreign Affairs of the Czech Republic, there are nearly 6,000 Czech nationals currently living in Ukraine, who associate in a number of expatriate associations. These associations are covered by the Czech National Council of Ukraine (ČNRU). Czech associations and business corporations make efforts to co-operate not only with expatriate associations, but also with other parts of Ukrainian public life in order to optimise the support of its stabilisation, including through grants from the EU funds to Ukraine. The Czech Republic also supports Ukrainian citizens through scholarships to students and through organising stays for Ukrainian children with compatriot backgrounds. Some universities, such as the Faculty of Law in Olomouc, have provided scholarships to several Ukrainian students.
keywords: European Neighbourhood Policy; Ukraine, protection of minorities; compatriots; Eastern Partnership; Organisation for Economic Co-operation and Development in Europe; Council of Europe Evropská politika sousedství; Ukrajina; ochrana menšiny; krajané; Východní partnerství; Organizace bezpečnosti a spolupráce v Evropě; Rada Evropy

Možnosti podpory Ukrajiny a krajanům na Ukrajině ze strany České republiky jako člena EU is licensed under a Creative Commons Attribution 4.0 International License.
230 x 157 mm
periodicity: 4 x per year
print price: 65 czk
ISSN: 0323-0619
E-ISSN: 2336-6478
Download