AUC IURIDICA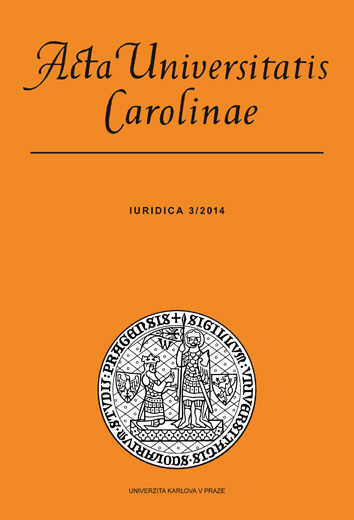 Acta Universitatis Carolinae Iuridica (AUC Iuridica) is a legal journal published since 1955, which presents longer essays as well as short articles on topics relevant for legal theory and international, European and Czech law. It also publishes works concerning current legislative problems.
Although intended primarily for domestic audience, AUC Iuridica is useful also for foreign experts, who can take advantage of summaries in foreign languages (English, German and French) and key words, which are systematically added to the main articles and essays.
The published articles are subject to peer reviews. If necessary, reviewed texts are sent back to the author for revision.
AUC Iuridica accepts contributions from any contributor on any current legal topic.
The journal is registered in the Czech National Bibliography (kept by the National Library of the Czech Republic) and in the Index to Foreign Legal Periodicals (kept by the American Association of Law Libraries).
The journal is archived in Portico.
Vysílání pracovníků a poskytování služeb do Německa a Rakouska
[Posting of Workers to Provide Services in Austria and Germany]
Martin Štefko
announced: 28. 01. 2015
abstract
Posting of Workers to Provide Services in Austria and Germany The Posted Workers Directive represents a compromise on how to negotiate the tension between freedom and protection in an employment relationship with employees temporarily relocated to another Member State. In accordance with the Rome Convention (or the regulation Rome I) respective employment relationships are governed by the home state´s laws. However, employers relocating employees to another Member State shall obey minimum protection guaranteed within the ambit of Article 3 I of the Posted Workers Directive by the host state. Such employers shall apply working conditions more favourable to relocated employees. This mandatory comparison that applies solely towards foreign employers makes foreign labour more expensive. Relocated employees acquire more rights than domestic employees; duties are not subject to comparison. Such practise is not sustainable in the long-term, even if the information campaign of the Member States improves. There must be issued either a uniform set of rules governing employment relationships of relocated employees or one law system chosen that will govern respective employment relationships.82 Although the EU is primary an economic union, the Posted Workers Directive is evidence that, in social Europe, it is impossible both to constitute and guarantee freedom to provide services without setting forth rules unifying social protection in all Member States. Not only did social policy on the European Union level not improve and not harmonize in each Member State somehow "automatically" (which is what the founders expected), but it also has become a serious obstacle for the European Union's most important aim – creation of an internal free market. There are serious problems connected to the application of Posted Workers Directive. Regardless of the chosen solution, for Central Europe there is no alternative to the process of the EU's integration. Either strong national welfare states will surrender or the integration will be diminished.
keywords: temporary work agencies; posting of workers; free movement of workers; labour law; the Posted Workers Directive agenturní zaměstnanci; vysílání pracovníků; svoboda volného pohybu pracovníků; pracovní právo; směrnice o vysílání pracovníků

Vysílání pracovníků a poskytování služeb do Německa a Rakouska is licensed under a Creative Commons Attribution 4.0 International License.
230 x 157 mm
published: 4 x per year
print price: 65 czk
ISSN: 0323-0619
E-ISSN: 2336-6478
Download