AUC IURIDICA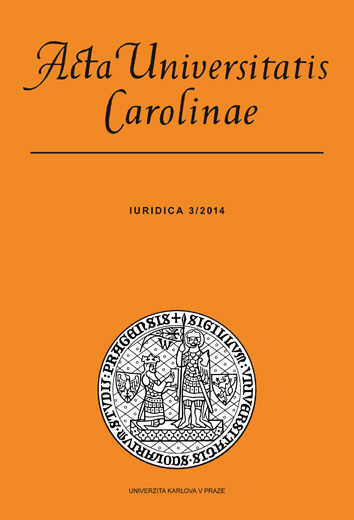 Acta Universitatis Carolinae Iuridica (AUC Iuridica) is a legal journal published since 1955, which presents longer essays as well as short articles on topics relevant for legal theory and international, European and Czech law. It also publishes works concerning current legislative problems.
Although intended primarily for domestic audience, AUC Iuridica is useful also for foreign experts, who can take advantage of summaries in foreign languages (English, German and French) and key words, which are systematically added to the main articles and essays.
The published articles are subject to peer reviews. If necessary, reviewed texts are sent back to the author for revision.
AUC Iuridica accepts contributions from any contributor on any current legal topic.
The journal is registered in the Czech National Bibliography (kept by the National Library of the Czech Republic) and in the Index to Foreign Legal Periodicals (kept by the American Association of Law Libraries).
The journal is archived in Portico.
Volný pohyb pracovníků a příslušný právní řád
[Free Movement of Workers and Aplicable Law]
Zdeňka Gregorová
announced: 28. 01. 2015
abstract
Free Movement of Workers and Aplicable Law The author deals with the free movement of workers inside the European Union and with other questions connected with it. She defines the principles and content of the right of free movement of workers in connection with the EU nationality. On this background she analysis the special question – determining the law governing the labour law relationship with the international element. She deals with EU instruments regulating relationships with the international element – especially the Regulation of the European Parliament and of the Council No 593/2008 on the law applicable to contractual obligations (Rome I) and its article 8 relating to the individual employment contracts.
keywords: the free movement of workers; a worker; the principle of equal treatment; the ban on discrimination; social rights; the Rome Convention; Regulation Rome svoboda volného pohybu pracovníků; pracovník; princip rovnosti; zákaz diskriminace; sociální práva; Římská úmluva; Nařízení Řím

Volný pohyb pracovníků a příslušný právní řád is licensed under a Creative Commons Attribution 4.0 International License.
230 x 157 mm
published: 4 x per year
print price: 65 czk
ISSN: 0323-0619
E-ISSN: 2336-6478
Download