AUC IURIDICA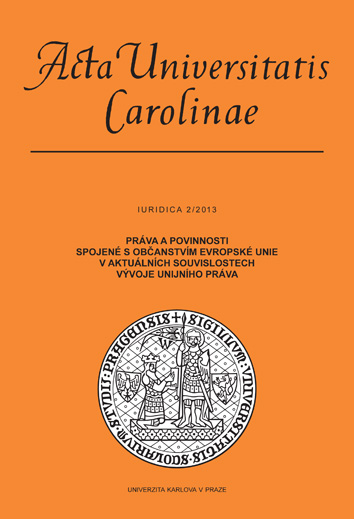 Acta Universitatis Carolinae Iuridica (AUC Iuridica) is a legal journal published since 1955, which presents longer essays as well as short articles on topics relevant for legal theory and international, European and Czech law. It also publishes works concerning current legislative problems.
Although intended primarily for domestic audience, AUC Iuridica is useful also for foreign experts, who can take advantage of summaries in foreign languages (English, German and French) and key words, which are systematically added to the main articles and essays.
The published articles are subject to peer reviews. If necessary, reviewed texts are sent back to the author for revision.
AUC Iuridica accepts contributions from any contributor on any current legal topic.
The journal is registered in the Czech National Bibliography (kept by the National Library of the Czech Republic) and in the Index to Foreign Legal Periodicals (kept by the American Association of Law Libraries).
The journal is archived in Portico.
–––
We are pleased to inform you that the journal Acta Universitatis Carolinae Iuridica was the first journal of the Faculty of Law of Charles University to be included in the prestigious international database SCOPUS. This Elsevier database is the largest abstract and citation database of peer-reviewed literature in the world. The editors of the journal expect from the inclusion in the elite SCOPUS database not only an increase in the readership of the journal, but also an increase in interest in the publication of papers by both Czech and foreign authors.
Každý spotřebitel, nebo jen občan EU: kdo je chráněn spotřebitelským právem EU?
Václav Šmejkal, Petr Navrátil
published online: 29. 01. 2015
abstract
Every Consumer or EU Citizen Only: Who Benefits from Consumer Protection Law? In EU law notion of consumer is of crucial importance. Each EU instrument defines consumer for its own purposes. Despite being phrased in different ways, the vast majority of the definitions of consumer found in EU legislation share a common core. Accordingly, a consumer is a natural person, who is acting outside the scope of an economic activity. This paper is based on the hypothesis that this universally recognized definition of consumer in EU law, as individual acquiring goods or services for direct use or ownership rather than for resale or use in production and manufacturing, is not sufficiently accurate. The purpose of this paper is to analyse EU consumer protection law. The reason for this research is that EU consumer protection law development brought a shift in paradigm and currently there are strong interrelations between the role of the consumer and of the citizen of the EU. The paper is composed of six parts, each of them dealing with different aspects of EU consumer protection law. Part One is introductory and defines basic terminology used in the paper. Part Two examines the notion of consumer in EU law. Part Three is an analysis of relevant legal acts and it provides an outline of relevant case law. Part Four concentrates on problems resulting from fragmented EU consumer protection law. Part Five focuses on development of EU consumer protection law as well as on expected development in this field. Conclusions are drawn in Part Six. The main aim of the paper to analyse relevant EU consumer protection law and to examine notion of consumer under EU law has been reached. The paper has shown that there are similarities, but also differences, between rights granted to consumers and rights granted to citizens. Both have rights which have been extended in practice of Court of Justice of the EU. We conclude that EU consumer law is merging with EU citizenship.
keywords: EU citizenship; consumer protection; EU law; fundamental rights; EU legislation for consumers občanství EU; ochrana spotřebitele; právo EU; základní práva; právní akty EU na ochranu spotřebitele

Každý spotřebitel, nebo jen občan EU: kdo je chráněn spotřebitelským právem EU? is licensed under a Creative Commons Attribution 4.0 International License.
230 x 157 mm
periodicity: 4 x per year
print price: 65 czk
ISSN: 0323-0619
E-ISSN: 2336-6478
Download