AUC HISTORIA UNIVERSITATIS CAROLINAE PRAGENSIS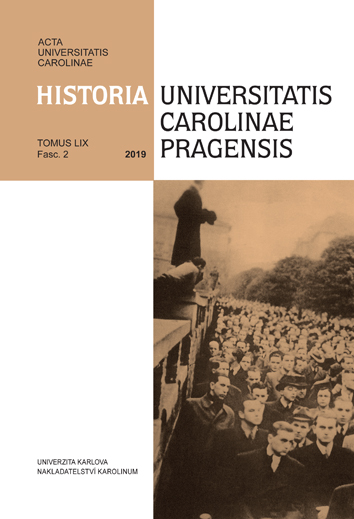 The journal AUC Historia Universitatis Carolinae Pragensis, subtitled "Příspěvky k dějinám Univerzity Karlovy" (Papers on the History of Charles University), is a periodical devoted not only to the history of the Prague university but also to the history of education and student movement in the Czech lands. The journal, published since 1960 as part of the Acta Universitatis Carolinae series, also publishes essays presenting original historical sources (all texts are accompanied by summaries in foreign languages, mainly in English and German). It regularly publishes reviews and annotations of works on the history of education and annals of research activities.
The journal is archived in Portico.
18. celostátní archivní konference v Plzni
Marek Brčák, Petr Cajthaml, Marek Ďurčanský, Roman Elner, Eliška Pavlásková, Lenka Vašková, Zdeněk Vašek
DOI: https://doi.org/10.14712/23365730.2020.5
announced: 20. 04. 2020
abstract

18. celostátní archivní konference v Plzni is licensed under a Creative Commons Attribution 4.0 International License.
157 x 230 mm
published: 2 x per year
print price: 150 czk
ISSN: 0323-0562
E-ISSN: 2336-5730
Download