PSYCHOLOGIE PRO PRAXI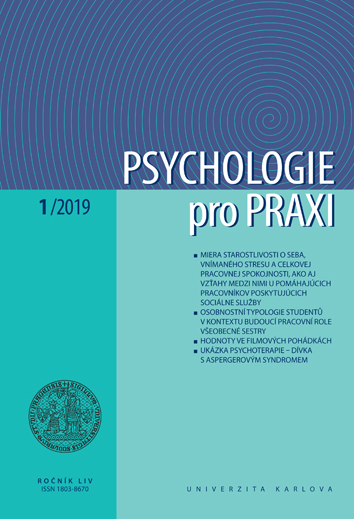 Psychologie pro praxi (Psychology for Practice) is academic journal focused on practical applications of psychological research and theory, particularly in psychology of work and organization, social psychology, and psychology of education.
Ukázka psychoterapie – Dívka s Aspergerovým syndromem
[A Case Study – Girl with Asperger Syndrome]
Kateřina Šrahůlková
DOI: https://doi.org/10.14712/23366486.2020.4
announced: 18. 03. 2020
abstract
The following text is focused on mapping a work with a girl with Asperger Syndrome, who is extra talented intelecutally and art way. There is a 4 years cooperation experience with the currently 9-year old girl described in the text. This study' objective is to cover the key moments of the therapy, simultaneously it is a psychologist reflection from the start of the therapy (forming the relationship) through the weak points in the therapy (disagreement with the care) until sustainable therapy style. I mentioned the methods and approaches useful for mutual co-action, as well as useless methods and approaches.
keywords: Asperger Syndrome; child; psychotherapy; process
references (14)
1. Anderson, S., Morris, J. (2006). Cognitive Behaviour Therapy for People with Asperger Syndrome. Behavioural and Cognitive Psychotherapy, 34, 293-303. CrossRef
2. Boyd, B. (2011). Výchova dítěte s Aspergerovým syndromem. 200 tipů, rad a strategií. Praha: Portál.
3. Casement, P. (1999). Hledání a objevování: Jak se učit v psychoanalýze od pacienta. Praha: Nakladatelství Lidové noviny.
4. Dubin, N. (2009). Šikana dětí s poruchami autistického spektra. Praha: Portál.
5. Howlin, P. (2005). Autismus u dospívajících a dospělých. Cesta k soběstačnosti. Praha: Portál.
6. Lindgren, S., Doobay, A. (2011). Evidence-Based Interventions for Autism Spectrum Disorders. [Dostupné z: http://www.interventionsunlimited.com/editoruploads/files/Iowa%20DHS%20Autism%20Interventions%206-10-11.pdf]
7. Patrick, N. J. (2011). Rozvíjení sociálních dovedností lidí s poruchami autistického spektra: Tipy a strategie pro každodenní život. Praha: Portál.
8. Preissmann, Ch. (2010). Život s Aspergerovým syndromem. Praha: Portál.
9. Ramsay, R. J., Brodkin, E. S., Cohen, M. R., Listerud, J., Rostain, A. L. (2005). "Better Strangers": Using the Relationship in Psychotherapy for Adult Patients with Asperger Syndrome. Psychotherapy: Theory, research, Practice, Training, 42(4), 483-493. CrossRef
10. Rodrigues, F. P. H., Sei, M. B., Arruda, S. L. S. (2013). Play therapy with a child with Asperger Syndrome: A case study. Paidéia (Ribeirao Preto), 23(54), 121-127. CrossRef
11. Sacks, O. (2015). Muž, který si pletl ženu s kloboukem. Praha: Dybbuk.
12. Spelic, A. (2015). Theoretical Basis of the Psychoanalytic Approach to Psychtherapy of Autism. Journal of Psychology and Clinical Psychiatry, 2(2), 1-12. CrossRef
13. Stoddart, K. P. (1999). Adolescents with Asperger syndrome. Sage Publications and The National Autistic Society, 3(3), 255-271. CrossRef
14. Thorová, K. (2006). Poruchy autistického spektra. Praha: Portál.

Ukázka psychoterapie – Dívka s Aspergerovým syndromem is licensed under a Creative Commons Attribution 4.0 International License.
157 x 230 mm
published: 2 x per year
print price: 80 czk
ISSN: 1803-8670
E-ISSN: 2336-6486
Download