PRÁVNĚHISTORICKÉ STUDIE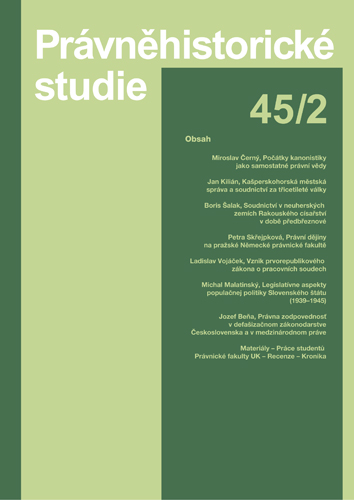 Právněhistorické studie / Legal History Studies (Charles University journal; below referred to as PHS or Journal) is a scientific journal listed in the international prestigious database SCOPUS. The journal is published by Charles University in Prague under the guarantee of the Department of Legal History of the Faculty of Law of Charles University. It is published by the Karolinum Press. The journal focuses on the field of legal history and related topics.
Issue 1 of the Journal was published by the Czechoslovak Academy of Sciences Publishing in June 1955. The Journal was initially published by the Cabinet of Legal History of the Czechoslovak Academy of Science (CSAV), later by the Institute of State and Law (CSAV) and then by the Institute of Legal History of the Faculty of Law of Charles University.
PHS is issued three times a year in April, August, and December and it presents original scientific works/papers as well as reviews, annotations and news from the scientific field of legal history. It also introduces annotated texts of a legal history nature. PHS accepts manuscripts from domestic as well as foreign authors. Manuscripts submitted by foreign authors are published in original language, namely in English, Slovak, German, French, Italian or Polish.
PHS (ISSN 0079-4929) is registered in the Czech national ISSN centre (supervised by the State Technical Library). The Journal is registered by the Ministry of Culture of the Czech Republic according to Act No. 46/2000 Sb., on Rights and Liabilities for the Publishing of Periodicals and Change of Some Acts (Press Act), and it is allocated with registration number of periodical press MK E 18813.
PHS is an open journal and ensures open access to scientific data (Open Access). The entire content is released as open to the public on the web pages of the journal.
The journal is archived in Portico.
Kašperskohorská městská správa a soudnictví za třicetileté války
Jan Kilián
published online: 30. 05. 2016
abstract
Stadtverwaltung und Gerichtswesen in Bergreichenstein zur Zeit des Dreißigjährigen Krieges Vorliegende Fallstudie stellt einen Umriss der Stadtverwaltung und des Gerichtswesens in der königlichen Bergstadt Bergreichenstein in der Zeit dar, die durch den Verlauf des Dreißigjährigen Krieges, also durch die Jahre 1618 und 1648, abgegrenzt wurde. Im Vordergrund hiesiger Kommunität stand, ähnlich wie in anderen königlichen Städten, zwölfgliedrige Ratsversammlung, die sich ungefähr nach einem Monat wechselte, samt des Primas, in der Funktion des Bürgermeisters, als auch das viergliedrige Korps der (Gemeinde-) Ältesten. Alle zusammen amtierten im Bergreichensteiner, in der Mitte des 16. Jahrhunderts erbautem Rathaus und verfügten gleichfalls über das Halsgericht. Erneuerung des Stadtrats, die während des Dreißigjährigen Krieges noch weniger regelmäßig als in Friedenszeiten war, führte der Oberste Münzmeister durch, unter dessen Obedienz die Stadt rechtlich gehörte. Die Ratselite stellten hier die Angehörigen der höheren ökonomischen Schicht dar, besonders traditionelle Wappenbürger-Familien der Weißenregner von Weissenfeld und Anbanter von Rozndorf, eventuell noch einige weitere, vor allem die Familie Zmut. In den Kriegsjahren kam es nur zu minimalen Veränderungen in der Zusammensetzung der Ratsherren und zur Durchdringung der neuen Personen. Wichtige Persönlichkeiten waren auch hier die Stadt/Ratschreiber und eine bedeutende Rolle (nicht nur bei der Exekution des Besitzes der Schuldner) spielte der Stadtrichter mit polizeilicher Kompetenz und mit einer Hilfskraft (sog. Richterboten). Einen königlichen, bzw. kaiserlichen Richter hatte Bergreichenstein nicht, weiteres Ratspersonal ist auch nich belegt. In der Stadt gab es ein Gefängnis und sogar eine Folterkammer, hiesiger steinerner Pranger aus dem Jahre 1630, der später als Gottesmarter diente, gehört dabei zu den wertvollsten Denkmälern aus dem behandelten Zeitabschnitt. Die Absenz von entsprechenden Quellen ermöglicht eine detaillierte Forschung Bergreichensteiner Kriminalität und des Halsgerichtswesens allerdings nicht.

Kašperskohorská městská správa a soudnictví za třicetileté války is licensed under a Creative Commons Attribution 4.0 International License.
240 x 170 mm
periodicity: 3 x per year
print price: 250 czk
ISSN: 0079-4929
E-ISSN: 2464-689X
Download