PRAGUE MEDICAL REPORT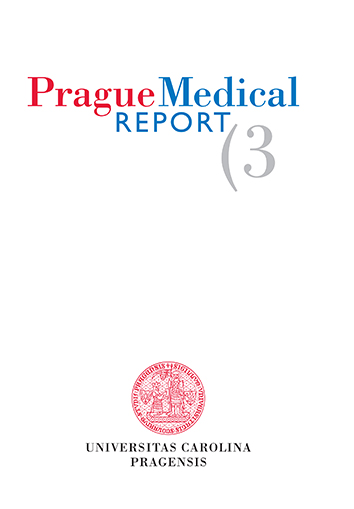 Prague Medical Report is an English quarterly published multidisciplinary biomedical journal. Prague Medical Report was founded as Sborník lékařský in May 1885. The journal presents public primary scientific publications, short communications, casuistry, and reviews. It contains articles based on important specialised lectures and symposia.
Primary Epithelioid Angiomyolipoma of Adrenal Gland: Case Report and Literature Review
Muhammet Cicek, Huseyin Ozgur Kazan, Ramazan Gokhan Atis, Asif Yildirim
DOI: https://doi.org/10.14712/23362936.2022.19
published online: 15. 09. 2022
abstract
Angiomyolipomas (AMLs) are mesenchymal tumours derived from perivascular epithelioid cells. Although AMLs are generally known as benign and extremely rare epithelioid variants of AML, they may be potentially aggressive. Here we present an adrenal epithelioid AML and the literature review. A 64-year-old female patient was diagnosed with a left adrenal mass detected incidentally on ultrasonography. Preoperative abdominal CT (computed tomography) showed a 95×68 mm heterogeneous contrast enhancement mass lesion in the left adrenal gland. The lesion was hormone inactive in the endocrinological evaluation, and left laparoscopic adrenalectomy was performed. The patient was discharged on the 2nd postoperative day. Pathology was reported as epithelioid subtype AML. The patient has no local recurrence or metastasis in the 18-month follow-up period and imaging. Adrenal epithelioid AML is an extremely rare and potentially aggressive variant. According to the literature, open or laparoscopic adrenalectomy seems to be suitable option for disease management.
keywords: Epithelioid angiomyolipoma; PEComa; Adrenal angiomyolipoma; Laparoscopic adrenalectomy

Primary Epithelioid Angiomyolipoma of Adrenal Gland: Case Report and Literature Review is licensed under a Creative Commons Attribution 4.0 International License.
167 x 240 mm
periodicity: 4 x per year
print price: 450 czk
ISSN: 1214-6994
E-ISSN: 2336-2936
Download